Agents of SHIELD NEWS HUB:
The posts below are meant to shed light on the mysteries of Agents of Shield and how it ties into the greater Marvel Universe:
RED HOT SHIELD NEWS
Agents of SHIELD is a TV show set in the Marvel Cinematic Universe that focus on the exploits of a rag tag team of SHIELD agents. The shows after completing its fifth season on ABC it has been signed on for a sixth season. The show has not had great ratings recently but does very well in international markets as well as on DVR. The show is also the primary Flagship of Marvel on ABC.
The show's sixth season only has commitment for 13 episodes about half the normal season run. This is still good news for the show though because it gives the show a chance to keep on going.
Who is Graviton? The threat from S1 returns?
>
Space vampires coming to Agents of SHIELD?
The big TWIST on AOS Season 5 Premiere
Who will Dove Cameron play on Agents of SHIELD?
What the heck is a Vrellnexian?
Agents of SHIELD Season 5 Spoilers!
MODOK in Season 5?
Season 5: NEWS
Initially Season 5 was not meant to come out until Jan 2018. However, ABC has altered this and now the show will come out immediatly after Inhumans likely sometime in mid November 2017. Some fans have speculated that ABC is worried that the Inhumans show is weaker than expected and that the company is trying to tie it closer to Agents of SHIELD in a bid to strengthen both series. However, the exact reasoning for the move by ABC is not explained. It could simply be that they are running ahead in production than what they initially anticipated.
A new Ward in the mix? Actor Jeff Ward (No connection to Grant Ward) has been hired to play a new mystery character. Jeff Ward is known for playing Charlie Manson in the show Mansons's Lost Girls. The actor is currently being credited with 5 episodes in the series. No other details are known about the character he could be either a villain, a hero or niether.
The Production for Season 5 began in July 2017. A few of the actors did share some photos showing their excitement for Season 5. Including Chloe Bennet and Clark Gregg.
Clark Gregg just shared a picture on his Instagram that appears to be from the set of Agents of SHIELD Season 5.
Chloe Bennet also shared:
Agents of SHIELD has been renewed for Season 5!
Press release from Marvel:
Good news, Agents—Coulson and his squad will return for a fifth season! ABC officially announced today that "Marvel's
Agents of S.H.I.E.L.D.
" will return for Season 5, continuing the adventures of your favorite agents. Don't miss the Season 4 finale this Tuesday at 10:00 PM ET on ABC as Ghost Rider returns to join forces with Coulson's team and face the newly-empowered (and newly-human) Aida!
Other hot topics:
Season 4:
Agents of SHIELD Season 4 premiered on Tuesday, September 20 in its new timeslot, 10:00 PM ET on ABC!
Season 4 is broken up into what show runners Jeb Whedon and Maurissa Tanchareon call Pods. The each section of the show or "Pod" has a distinct theme. The first pod was Ghost Rider, the 2nd is believed to LMDs. There is still not information to know what the theme of the final Season 4 Pod will be.
At the beginning of new LMD Pod it was revealed that AIDA replaced Agent May with an LMD. It is unclear how long Agent May has been replaced.
The LMDs are said to be different from Ultron and his bots in a few clear ways. In an interview with IGN Whedon explained this saying the LMDs are ...
"not omniscient, they don't have access to all knowledge and all information and all other machines the way Ultron and to a lesser extent Vision did. We're much more interested in the knowledge that that person has and how does this being deals with that. They also won't build ten thousand versions of themselves, mostly because we don't have 200 million dollars, but also because of emotions and telling these emotional stories."
What happens to Robbie Reyes become the focus in a Entertainment Weekly interview with Jeb Whedon and Maurissa Tanchareon.
While Ghost Rider and Robbie Reyes will not be the focus of the next section of the season it is still possible for him to appear. Tanchareon made this clear after it was explained that Pod structure would move away from the Ghost Rider theme explained, she quickly chimed in
"It doesn't mean he is gone",
Agents of SHIELD -Slingshot
This is a 6 part Digital show that focuses on the character Yoyo from Agents of SHIELD.
Update: Dec 7 - I have not heard about this show until now and this show will begin streaming in a week! This is a very cool idea and a great Christmas surprise for Agents of SHIELD fans. Be sure to check it out on Dec 13th.

Season 4 Synopsis:
In light of the Sokovia Accords, and with Hydra obliterated, S.H.I.E.L.D. has been legitimatized again and no longer needs to operate in the shadows. Since the world presumes that Coulson is dead, the organization needed a new Director (Jason O'Mara) to be the face of the organization. Coulson finds himself back in the role as an agent and teamed with Mack (Henry Simmons), and together they are tasked with tracking down and confirming the presence of Enhanced people, aka Inhumans. They have been trying to track down and capture Daisy (Chloe Bennet), aka Quake, who has gone rogue in an attempt to atone for sins from the past. But with the world believing that Daisy is a dangerous outlaw who has taken down banks and bridges, the new Director has no qualms about taking her down for good. Agent May (Ming-Na Wen) is tasked with training specialist strike teams, and Fitz (Iain De Caestecker) and Simmons (Elizabeth Henstridge) have taken a big step forward in their relationship. But with Simmons' new promotion as Special Advisor to the Director in Science and Technology, Fitz, as well as her former team members, finds it hard to confide in or trust her since she's now the Director's confidant.

Robbie Reyes (Gabriel Luna) will roar into the lives of Agent Coulson and the team as a junkyard mechanic who can turn on a dime into the terrifying Ghost Rider. Will Robbie be a friend or foe to S.H.I.E.L.D. – as well as the world, itself? Meanwhile, Fitz discovers that socially awkward genius and friend Dr. Radcliffe (John Hannah) has started putting the finishing touches on a new, secret invention.

"Marvel's Agents of S.H.I.E.L.D." returns with a vengeance for the fourth exciting season in an all new time period, Tuesday at 10:00 p.m. ET.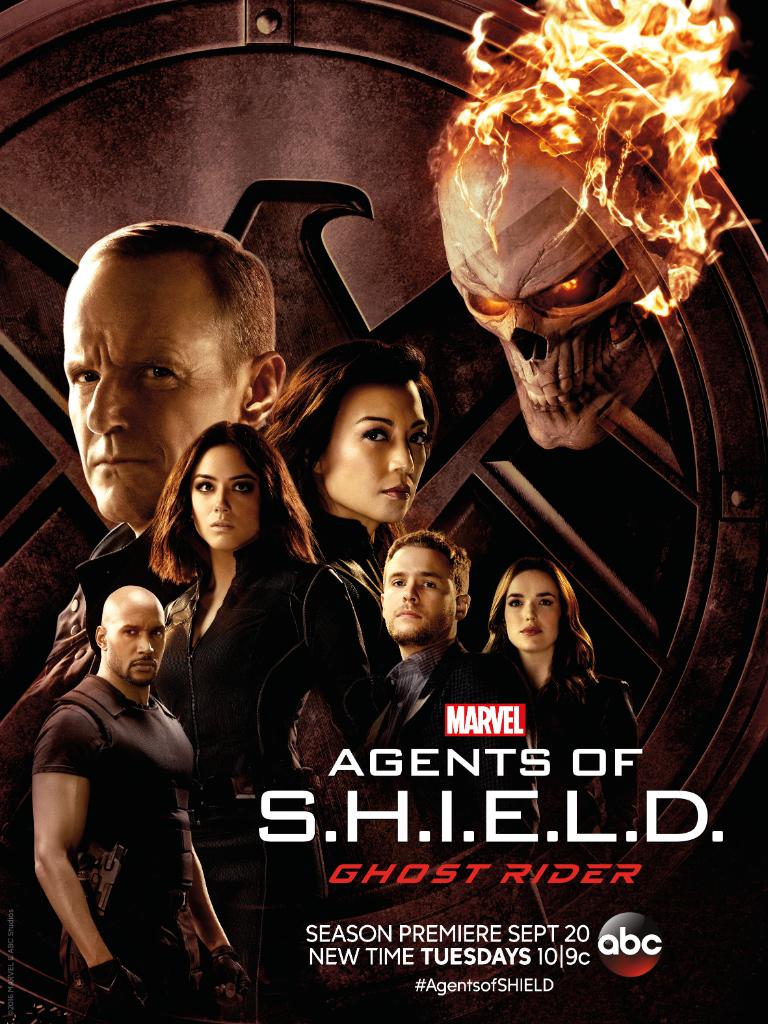 Ghost Rider!
Agents of SHIELD began showing an emblem of a fire laced chain on its Season 4 promotions prior to San Diego Con 2016. The show has a character named Hellfire that also uses a fire laced chain that initially was what fans thought the art meant. However casting calls have revealed that the show is looking for actors who would fit the part of Robbie Reyes and his brother Gabe Reyes. Specifically, mention a Hispanic male who would be in a wheel chair similar to Gabe. This has led to speculation that Agents of SHIELD may have been allowed to use the Robbie version of Ghost Rider while the traditional Johnny Blaze may be saved for Netflix.
Another thing that leads to Robbie appearing in Agents of SHIELD is that his origins are tied to the villain Calvin Zabo who was established as a character in Season 2 of Agents of SHIELD as Skye/Quake's father.
At San Deigo Comic Con 2016 Agents of SHIELD officially announced that Ghost Rider will appear in the series with a short teaser. Actor Gabriel Luna from True Detective will play the Robbie Reyes version of Ghost Rider.
SHIELD Agent Files:
Season 4 trailers, reviews and previews!
Classified SHIELD Personnel Files
SEASON 3 News
Who is Yoyo? Click Here to Learn More
Who is the Inhuman Founder of Hydra?
Lets talk about Mack's Shot Gun Axe!
Who is Gideon Mallick? (Agents of SHIELD)
Who is Werner Von Strucker?
Who is Phobos?
Who is Eldrac the Door? Is it the Stone that ate Simmons
Season 3 trailers and previews!
Marvel's Most Wanted! - Show staring Mockingbird and Lance Hunter
Potential characters on Skye's Superteam - Meet the Caterpillars
What is the new John Ridley series he is making for Marvel / ABC?
Will Speedball appear on Agents of SHIELD?
Season 3 projections - Lets talk Super Teams!
Answering Eldrac the Door / Agents of SHIELD questions
See Each Week's AOS Poster and

Synopsis

!
Inhumans CheatSheet for Agents of SHIELD fans
Agent Carter - SSR Headquarters
Who are Skye and her Father?
Who is Daisy Johnson / Quake?
Who is Mister Hyde / Calvin Zabo? Is he Skye's father?
LISTS
Top 5 Questions after AoS S2 Midseason Finale?
Top 10 Villains of Agents of SHIELD
5 reasons to be excited for Agent Carter?
Top 10 Questions After Agents of SHIELD Season 1 finale?
Season 3
Movie Clips and Previews:
Season 3 trailers and previews!
Season 3 Speculation:
Who is Yoyo? Click Here to Learn More
Season 2:
Movie Clips and Previews
Season 2 Reviews and Speculation
Season 2 Promotions and News
Agents of SHIELD Comics
The new SHIELD comic will have all your favorite agents!
Important Skye and Inhuman Posts:
Last nights episode revealed a lot of things. It also generated some new questions. First if you are wondering what an Inhuman is please check out the Inhuman Cheat Sheet below.
Midseason premiere coverage from the Watcher!
Top 5 Questions after AoS Midseason Finale?
Is Glenn Talbot an Inhuman?
Inhumans CheatSheet for Agents of SHIELD fans
"What will the become" Episode review and analysis
Who is the Blind eyeless guy at the end of the Mid Season Finale?
Raina - what / who will she become?
Gifs of Skye Breaking out of her cocoon
News and Speculation by Character:
SHIELD Agent Files:
Classified SHIELD Personnel Files
Mockingbird
First image of Mockingbird on Agents of SHIELD
Mockingbird: Bio, News
Images of Adrianne Palicki in Mockingbird costume
Who are Skye's parents and Who is Skye?
Agents of Coulson's writing
Fitz:
Will Fitz get a pet helper monkey?
Captain America 2 Revelations:
Dont read if you haven't seen the movie!
SPOILERS: Captain America 2 Easter Eggs and Revelations
SPOILERS: What happens to Agents of SHIELD after Cap 2?
SPOILERS: Who are HYDRA agents?
Howling Commando Connections:
Triplett's grandfather a Howling Commando?
Peggy Carter scene reveals the Origins of GH 325 and Blue Body
Who are these bad guys?
Top 10 Villains of Agents of SHIELD
Agents of Shield Rogues Gallery
Who is Whiplash? Marcus Scarlotti
What is GH 325?
What is GH 325, What is the body?
Did Marvel Introduce the Organization SWORD?
What does the Kree writing mean?
Peggy Carter scene reveals the Origins of GH 325 and Blue Body
What is the plan for Mike Peterson?
What do you think of the show Agents of Shield?
Opinion pieces on Agents of Shield:
Agents of Shield Sucks!
Was Ward Raped by Lorelei?
Agents of Shield Polls
Which character are you most excited to see?
Asgardian Connections:
Asgardan Artifacts in Agents of SHIELD
What other Marvel Characters will make an appearance in AOS?

Season 1 Speculation:

Who / What is Centipede?