Please Share and Follow us on Twitter!
Tweet
Follow @toylabHQ
Join the Venom Army!
Venom fans have always been a special bunch and after being disgusted with how their favorite character was portrayed in Spider-Man 3 they now get a chance with the film Venom. As a member of the Amazon Affiliate Program we scoured Amazon for the coolest and most awesome Venom Gear to prepare Venom fans for film.
Venom's release date in the US is October 5th. You still have some time to get ready.
Here are some of the items we have spotlighted just for you!
Venom T-Shirts and Hoodies:
What to wear what to wear. Here were some options that caught our eye! These will look rad in the theater.
I think this shirt may be the ultimate in Venom Army Shirts. We Are Venom...yeah that is bad ass.
This is a another cool shirt that caught our eye. This shirt uses the cover of the Lethal Protector series as its main image. This is the iconic series that much of the film will use for inspiration. If you want to read Lethal Protector before you wear the shirt, look below. We have included Lethal Protector amongst the Trades you can pick up prior to going to the film.
It can be hard to find a Geek T-Shirt for girls and especially a Venom shirt designed for females. Apparently, t-shirt makers think that Venom has no female fans. I know this is not true. Yes, Venom fans exist. Luckily though there are some female Venom shirts. We liked this one the best. Its pretty sleek and still maintains the bad assery of Venom. Plus we love the back with the We Are Venom. I think its the perfect female Venom shirt for the Venom Army.
For those in cold weather who want to Rock the Venom look this hoody is very cool. I love Hoodies and I love Venom Hoodies even More! Its a simple, clean design that just wreaks of the bad assery that is Venom.
Bio World always makes cool things and this hat is really amazing. It has Venom teeth on the lid that is just crazy. Its kind of psychadelic piece of art. How does one elegantly add teeth to a hat? Apparently like this.
I keep coming back to this shirt. It is very simple in design. I've decided its just the quintessial Venom face. Its sleek, its cool, you will definetly be rocking part of the Venom Army while wearing this. I also think it is has that metal feeling going for it which Venom and Metal just really go together.
The Toylab bloggers know comics and also know specifically a lot about Spider-Man and Venom comics. We have some recommended reads for those who want to read up before they see the film.
Venom Lethal Protector Paper Back
The film is heavily based off of Lethal Protector. Prepare for the film by reading the great series for yourself.
Venom - alien symbiote! Deadly foe of Spider-Man! Defender of the innocent?! Eddie Brock and his symbiotic "other" have decided to turn over a new leaf and become a hero! But when Venom heads west, there's no shortage of enemies waiting to test his new resolve - including the Jury! Plus: Spider-Man meets Venom's father! And the Lethal Protector gives birth to a whole new horde of sinister symbiotes! But will any of them follow in daddy dearest's "heroic" footsteps? Doubtful! Get ready to experience the original Venom in his first -and deadliest - solo series!
COLLECTING:
VENOM: LETHAL PROTECTOR 1-6
Venom Planet of the Symbiotes
The Planet of the Symbiotes story really fleshed out the mythos around what the Symbiote is and how they work. It was also a very awesome story. If you want to go beyond the story of Lethal Protector this is a great place look. Some of the Symbiotes introduced in the Lethal Protector series also get a follow up in this story.
Fearing the growing influence of his "other," Eddie Brock takes the drastic step of splitting himself from the Venom symbiote! But the unwitting result is a full-scale invasion of Earth by its alien race! As more and more humans are taken as hosts, Eddie must team with Spider-Man and the Scarlet Spider to save Earth from being overrun. And to do so, they must journey to the Planet of the Symbiotes! But whose side will the Venom symbiote be on? And amid all the chaos, Carnage awakens from his coma - and plans to absorb as many symbiotes as he can! Can our heroes deal with a 50-foot-tall psychopath? It's a symbiotic sci-fi super hero spectacular!
COLLECTING:
MATERIAL FROM AMAZING SPIDER-MAN SUPER SPECIAL, SPIDER-MAN SUPER SPECIAL, VENOM SUPER SPECIAL, SPECTACULAR SPIDER-MAN SUPER SPECIAL, WEB OF SPIDER-MAN SUPER SPECIAL
The New Venom-2018 -Donny Cates Series
Many have you likely heard how awesome and metal this series is. Arguably the best Venom series ever is the one that going on now. Get caught up with it become a Knullite fan like me and this is the perfect place to start. This series does not tie into much in the film but if you love Venom you need out this series.
In the wake of S.H.I.E.L.D.'s collapse, an ancient and primordial evil has been awakened beneath the streets of New York. And with it, something equally evil has been awakened in that most wicked of web-slingers: Venom! The symbiote may still be a Lethal Protector of innocents in New York, but this never-before-seen threat could possibly force Venom to relinquish everything it holds dear - including its human host, Eddie Brock! Two of the hottest creators in comics today, Donny Cates and Ryan Stegman, join forces to deliver a Venom adventure a thousand years in the making!
COLLECTING:
VENOM (2018) 1-6
More Venom News:
Explanation of Venom's symbiote villains!
Who is Venom?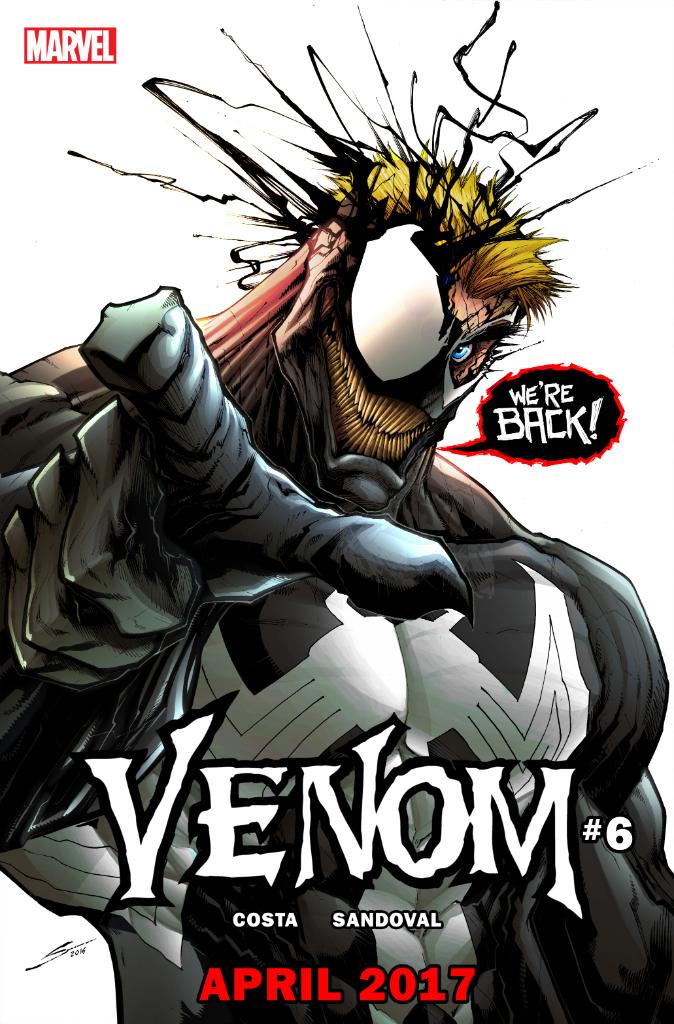 The Venom Movie is almost here get excited Venom Fans and prepare yourself for the movie! Venom is being released on October 5th!
One of Marvel's most enigmatic, complex and badass characters comes to the big screen, starring Academy Award® nominated actor Tom Hardy as the lethal protector Venom.
DIRECTED BY Ruben Fleischer
SCREENPLAY BY Jeff Pinkner & Scott Rosenberg and Kelly Marcel
Based on the Marvel Comics
SCREEN STORY BYJeff Pinkner & Scott Rosenberg
PRODUCED BYAvi Arad, Matt Tolmach, Amy Pascal
EXECUTIVE PRODUCERSDavid Householter, Stan Lee, Kelly Marcel, Tom Hardy
CAST Tom Hardy, Michelle Williams, Riz Ahmed, Scott Haze, Reid Scott
Venom Film - News, Trailer and Art
Follow me on Social Media: