Please Share and Follow us on Twitter!
Tweet
Follow @toylabHQ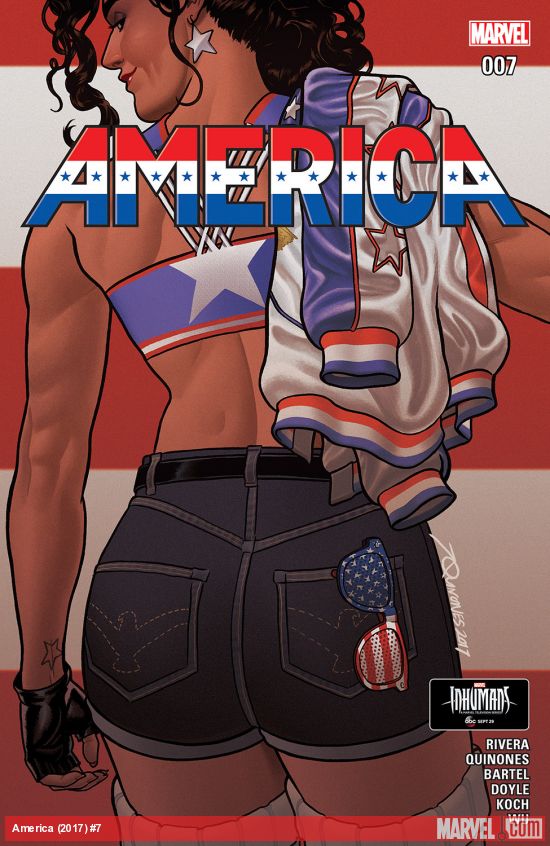 America the book that focuses on the female America Chavez who is kind of a femaile version of Captain America has not sold very well, and now it seems Marvel has decided to sell the book using her Butt........gasp. Sharpen your pitch forks people......or wait slow down lets take a second to breath about this and most importantly to think.
America has been selling very low numbers of books in August the book sells 9,548, down from the measely 11,354 it sold in July (Source Comichron). These sales numbers are well below a level where one would expect cancelation. That said Marvel has kept some of these female books going at a similar level as a seeming courtesy to keep female characters on the shelves. Marvel has been struggling to sell books and in particular has been trouble to sell female led books. In the past comic books have played up the sexyness of their female characters to sell books, in what has largely been viewed as a male market. Recently though there has been the view that if comic publishers tone down the sexyness and show the characters in a more serious setting they will gain more female followers. For a time Marvel had a couple of hits with Ms Marvel (Kamala Khan) and Captain Marvel using less of a sexy art style. However, these books have mostly dropped in sales recently as well (Captain Marvel Generations did buck this trend and sell well). Likewise there have been a few major controversies where female comic art that was deemed too sexy was called out. Curiousily this was done mostly on variant covers than normals ones. Cover art for J Scott Campbell of Riri Williams and also the Spider-Woman cover by Milo Manera caused many internet tantrums over the "too sexy" covers. Marvel listened to the complaints and toned down the art of their female covers however, the non sexy books have all done awful in sales.
While Marvel goes the non sexy route artists who specialize in sexy females continue to the be the outright rock stars of the comic art world in Comic Cons. J Scott Campbell, Greg Horn and Frank Cho continually are the most sought after for artwork. Female cosplayers also seem all to eager to use the art work of these artists in their cosplays. It seems the bulk of the fans still like and buy sexy female art.
I am not sure how to feel about this. The reality is there should be female heroes that do not rely on boob windows to sell comics. That said, sex is ok, it is a part of life. Male characters are mostly sexy too. Every major male character Thor, Captain America, Black Panther, Star Lord have a six pack and find a way to show it in a film. The trick I think is to give depth to those sexy characters so that they are more than just sexy. I can't help but feel that the reaction to Milo Manera's and J Scott Campbell's artwork has shot the industry in the foot. If female characters don't find a way to sell, then there won't be many of them on the shelf and that is the worst case scenario for female fans. I share female comic fans pain in many ways due to having two daughters, who I have at times very much struggled to find a book for them to like. That said shutting down a market that exists, rarely ends up with desired substute product suddenly springing to life.
I also think that the comic fans that are outraged all the time, tend not to be the comic fans who buy the books. If you want a certain type of comic, when it comes out, buy it. Trust me Marvel wants your money if you buy it, they will write it. While I buy Moon Girl and America for my daughter I seem to be very much alone in this market place.
That brings us to this America cover. I think this cover is kind of interesting, It marks an interesting pivot point at Marvel. This cover is "kind of sexy" its set up to view Chavez as she walks away. The cover though clearly made room for her butt. The lines and flow of the cover, draw the eyes to her behind. It has a definite focus on the butt. However, the butt itself is not overly curvacious or sexy. Its just kind of a boring, flat butt. Marvel seems to be saying alright, we will begin adding some titulation, but it will be crappy tittulation. We will put butt's on covers, but they will be flat butts. Its kind of funny. Not sure though, maybe this is the right way to sell female comic books. A flat butt will pull in those male buyers and still not be sexy enough to scare off those mystical unicorn like female comic fans that are out in the woods somewhere waiting to buy comics.
OR will this Cover cross the line and cause......OUTRAGE. Hard to say saddly it doesnt seem like anyone is paying attention to female led comics at Marvel anymore. So their might not be anyone left to outrage.
If you like Flat Butts this America issue will be on shelves this Wednesday.
AMERICA (2017) #7
Published: September 20, 2017
Rating: Rated T+
Cover Artist: Joe Quinones
THE ORIGIN OF AMERICA CHAVEZ! America Chavez left the Utopian Parallel when she was six years old, and by age 16, she was battling with the best. What happened in between? This is American history. This is the story you've been waiting for
Captain Marvel is going to have awesome toys and merchandise. Toylab is a member of the Amazon Affiliate program so that we can bring you the best deals on Marvel toys and gifts for you to check out. To check them out just click on the products below or feel free to change our search bar to better meet your needs.
Marvel Matt wrote this post. You can send your outrage to him at:
Twitter @ToylabHQ
MORE MARVEL!!!!!! - News, Videos, Trailers