Please Share and Follow us on Twitter!
Tweet
Follow @toylabHQ
Denver Comic Con is coming up Friday June 30th and the Toylab Bloggers are going to be hitting it hard!
Here is the breakdown of who is coming:
Celebrities:
Just to warn everyone Celebrities are not typically NOT our focus. Our bloggers tend to be more interested in artists and writers that said there are some pretty interesting Celebrities and we may join some panels. Here are the highlights of ones that stick out to us arranged in themes. Once again we love the artists so much that they will bleed into our breakdown here.
There are going to be some awesome people there that I don't know where exactly to put them as a theme including John Cusak, Weird Al Yankovic, Jon Heder, Michael Chiklis, and Felicia Day.
Defenders
I am hoping for a Defenders Panel we will see that would be a must go event if they have one.
Finn Jones - Iron Fist
Mike Colter - Luke Cage
David Mack - Artist well known for covers on Jessica Jones, Daredevil, Echo and the Defenders. Has a series called Kabuki.
Stranger Things
The kids of Stranger Things will be there and I hope we get a panel with them. I tend to think a Stranger Things panel will be the highlight of the con.
Millie Bobbie Brown
Gaten Matarazzo
Caleb McLaughlin
Guardians of the Galaxy
Michael Rosenbaum - I am curious about the future of Martinex
Dresden Verse
Jim Butcher -? Have not seen him listed but he has some colorado connections so it would not surprise me to see him here.
James Marsters (Spike from Buffy, and Dresden in audio books) I could have put James in either the Whenonverse section or this section. I decided to put him here because I run into so many people who love his Dresden work. I would say the hardcore fans of James used to be Buffy fans but are now mostly Dresden fans. I could be wrong. Either way I am seeking him out as a Dresden fan and am hoping for him to sign the first Dresden Files book Stormfront that is already signed by author Jim Butcher.
Whedonverse (Firefly, Buffy, Dollhouse):
Nathan Fillion
Clare Kramer (Glory)
Eliza Dushku
Landau, Juliet - Drusilla in BuffyGeorge Jeanty - Artist of Buffy and Firefly comics also really just a really cool dude.
Dexter Vines - Artist of Buffy also has worked on Marvel and DC.
Star Trek:
Kate Mulgrew
Garret Wang
Animation:
Kevin Conroy - Voice of Batman from Batman the Annimated Series
Carey Means - Aqua Teen Hunger Force
Andrea Romano - Batman cartoons
Chris Sabat - Dragon Ball Z
The Walking Dead:
Khary Payton - King Ezekiel
Doctor Who:
Catherine Tate
Billie Piper - Was coming but has canceled do to a part coming up.
Harry Potter:
Phelps, James and Oliver - The Weasley Twins
Writers and Artists:
Coming Soon
Updates: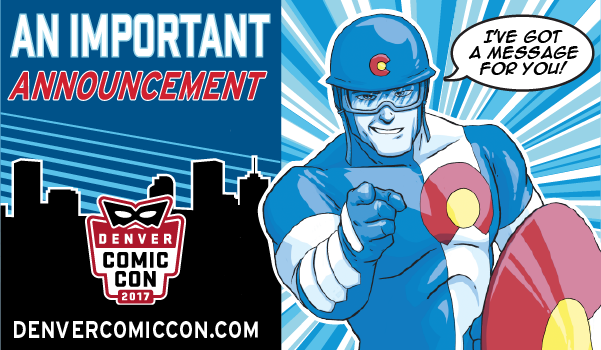 We are continuing to monitor changes to Convention policies. Denver Comic Con which begins at the end June just released a new policy and plan for entering the convention. The key component is that there is a BAG and Prop check. I wanted to highlight the word bag because I know I normally bring a bag to the con with comics and the like in it. This year if I do that I will need to go through the Bag and Prop line that will undoubtedly move much slower than the other lines. Here is the official announcement from DCC.
DCC'17 PSA: NEW ENTRY LOCATION, SINGLE REGISTRATION LOCATION, AND BAG/PROP CHECKS FOR 2017! Hey DCCers, we have three big changes involving entry this year, so please read this post carefully! You can send questions to info@popcultureclassroom.org.
First: The main entrance for the con has changed this year, and will be at the "Bellco Theater Entrance" on the SPEER BOULEVARD side of the Convention Center.
Second: There will be only one Registration location (where you go to exchange your tickets for badges, or to buy new tickets) this year. The single Registration area will be in the Lower B Lobby on the Welton Street side of the Convention Center. Note that we've had a Registration area in this location each year of the con. In this location, there are multiple bag check lines.
Third: Our security team will be doing bag and prop checks this year for everyone's safety. We will begin the entry process earlier than in past years because of the increased time required for checks. The exact opening time will be announced in the coming weeks. There will be two entry lines, one for people who have bags or props, and one for those who don't. There will be multiple bag check lines. Full disclosure: The line for bag and prop check will be much slower than the other line, so if you want to get in as fast as possible, leave your bags and props at home if you can.
Remember to read our cosplay and prop policy for 2017 here:
Comic Con News