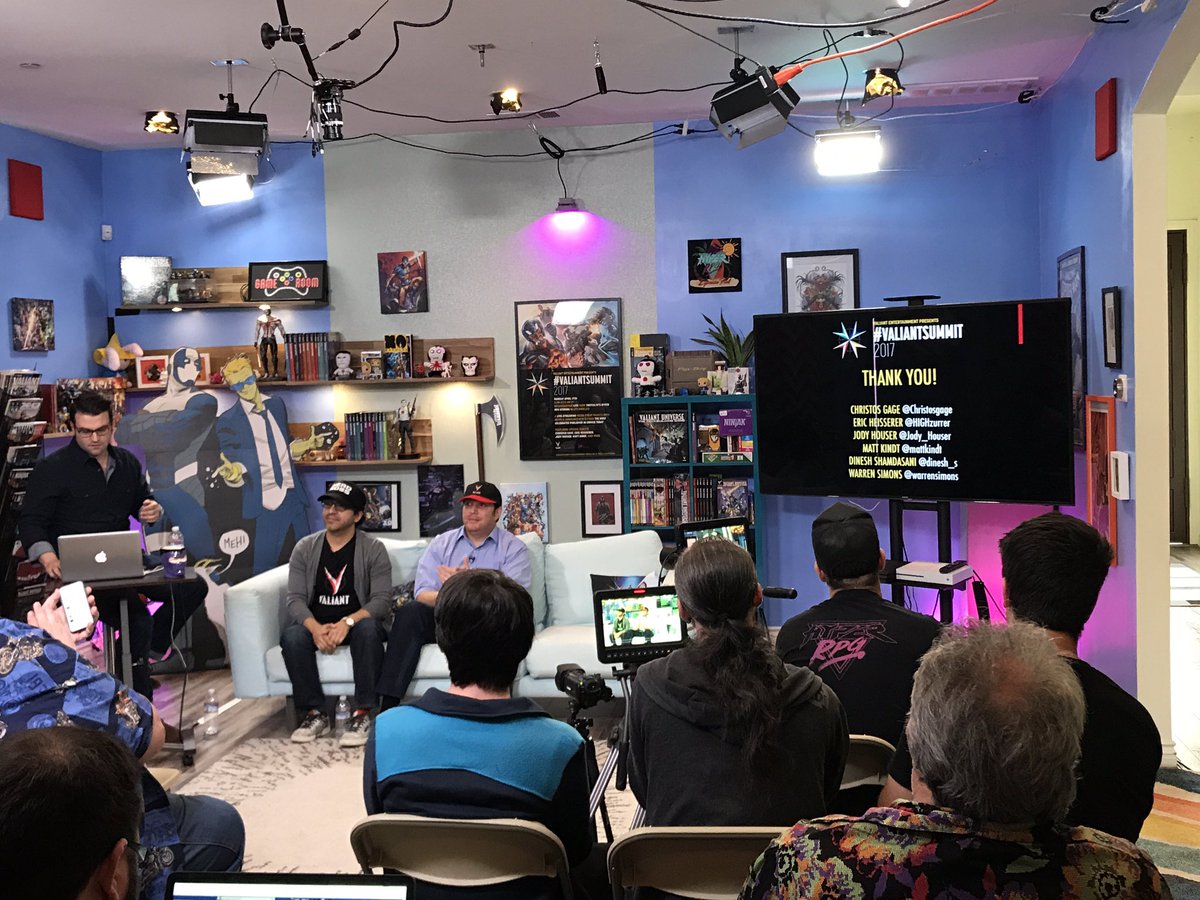 Valiant has an upcoming Summit on April 17, 2 PM Eastern Time where they will be broadcasting Live from Twitch ( at TWITCH.TV/HYPERRPG ). You can also follow along on Twitter by using the hashtag #ValiantSummit
Summit News:

Upcoming Titles by Valiant for 2017: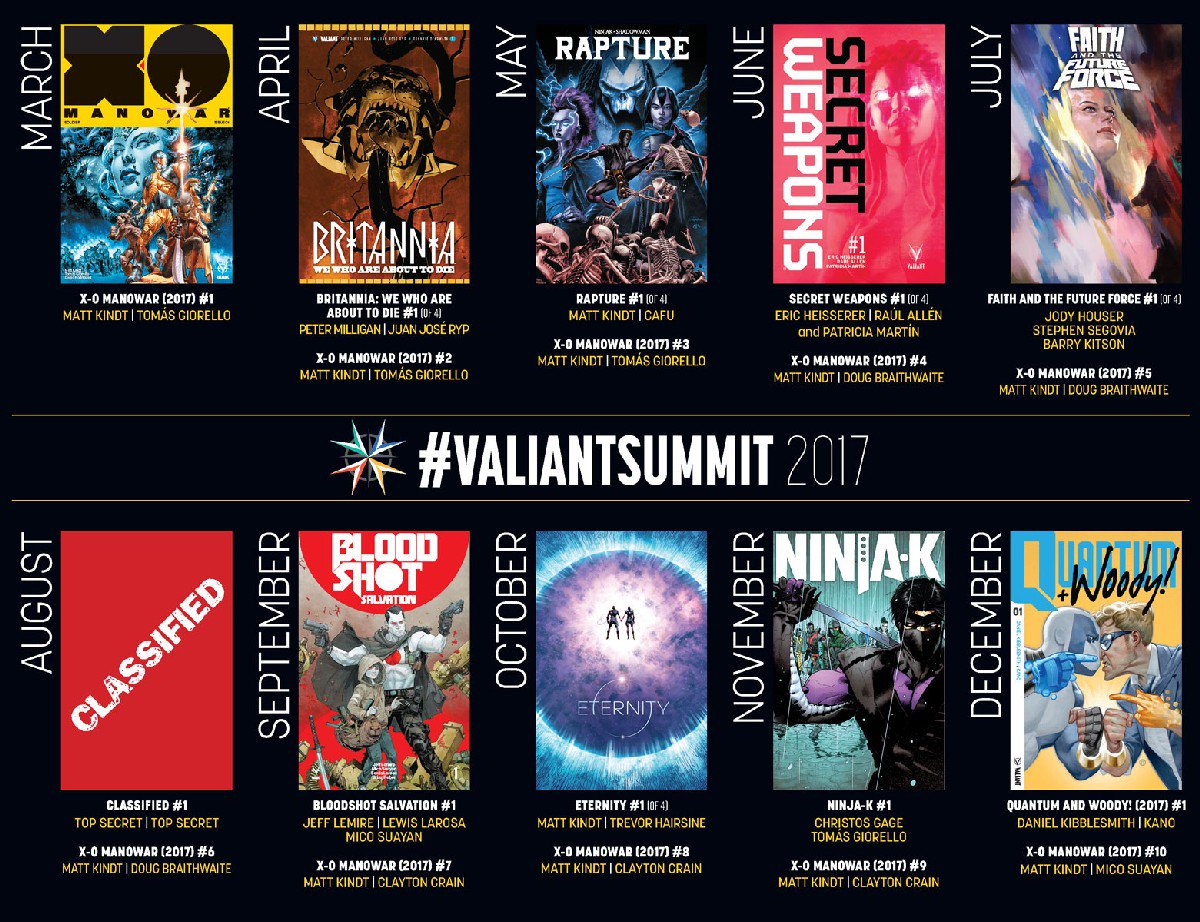 August is Classified
Valiant has big plans for August but they are not revealing what they are.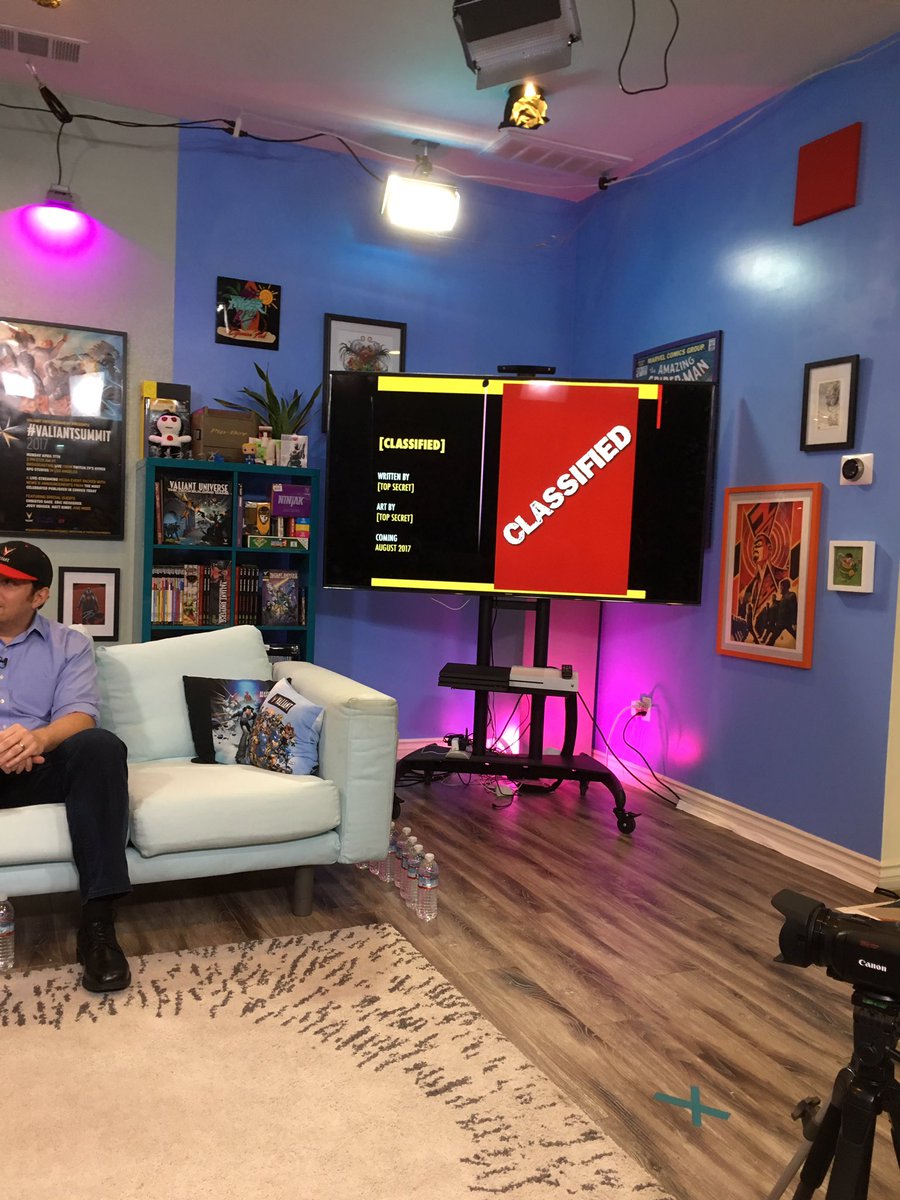 X-O Manowar
X-O Manowar #1 sold over 90k copies and is said to be the biggest Independent launch this year. Valiant seems very excited about this series and carrying on those readers into future issues.
A range of new aliens are going to be introduced through upcoming X-O Manowar issues particulary from a group of Bounty Hunters.
X-O MANOWAR (2017) #1 by Matt Kindt & Tomas Giorello in March
"X-O MANOWAR wasn't just the launch of a new series, it was a statement of purpose," said Valiant CEO & Chief Creative Officer Dinesh Shamdasani. "Even before the first issue hit stands, the success of that series has emboldened Valiant and its creators to redouble our efforts and create what might just be our most high-profile roster of titles to date. Over the course of the coming year, Valiant has dedicated itself to bringing the same level of creative vision, formidable storytelling and intensive quality to each of its most important new series and most beloved characters – a process that began with X-O MANOWAR and will soon extend outward into FAITH AND THE FUTURE FORCE, BLOODSHOT SALVATION, NINJA-K, QUANTUM AND WOODY! and some of our most exciting titles yet."
X-O MANOWAR (2017) #1
Written by MATT KINDT
Art by TOMÁS GIORELLO
Cover by LEWIS LAROSA
WAR IS COMING!
Born under the oppressive thumb of the Roman Empire, Aric of Dacia learned warfare at an early age. It was amid such violence that he was abducted by an alien race. Forced into slavery, he survived where others perished. His escape would come from bonding with a weapon of immeasurable power: the X-O Manowar armor. With it, he returned to Earth…only to find himself stranded in the modern day.
But that was a lifetime ago.
Now, far from home on a strange and primitive new world, Aric has begun a new life. Liberated from his past, he tends to his crops. Free from war. Free from violence. Free from the armor.
But the machinery of death marches his way once again. Conscripted into an alien army and thrown into an unforgiving conflict, the fury inside him finds voice as he is forced to embrace the armor once more. With it, he will decimate armies, topple empires and incite interplanetary warfare as he rises from SOLDIER to GENERAL to EMPEROR to VISIGOTH. They wanted a weapon. He will give them war!
A stunning new beginning for Valiant's most enduring icon starts here as New York Times best-selling writer Matt Kindt (DIVINITY, NINJAK, Mind MGMT) and a rotating cast of powerhouse interior artists spanning the series' first year – including Tomas Giorello (4001 A.D.: WAR MOTHER, BLOODSHOT REBORN), Doug Braithwaite (ARMOR HUNTERS, BLOODSHOT U.S.A.), Clayton Crain (RAI, Carnage), Ryan Bodenheim (The Dying & The Dead), and Mico Suayan (BLOODSHOT REBORN) – present the biggest Valiant debut of all time…and unleash the brutal opening salvo of the ultimate X-O Manowar tale ever told!
ONGOING SERIES | BEGINNING MARCH 2017
The Road to Harbinger
Harbinger Renegade is said to feature a graphic death of a main hero of Valiant. The death is so gruesome it is said to come with a warning cover.
The series will also begin to head toward Harbinger a major event in the Valiant universe.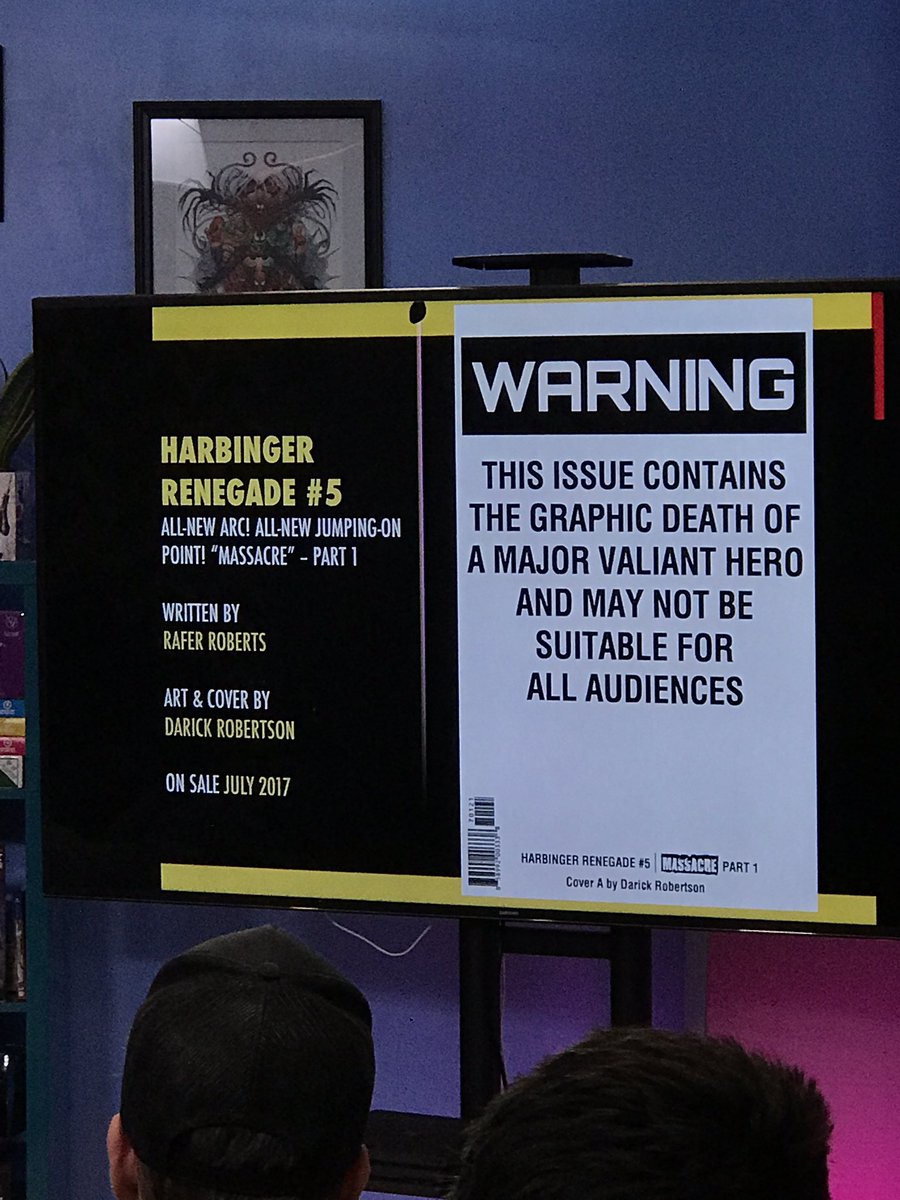 Bloodshot
Bloodshot is going to be given a family in Bloodshot redemption which will give the bloody hero another reason to fight.
The promo artwork for this series looks completely sick!
BLOODSHOT SALVATION #1
Written by JEFF LEMIRE Art by LEWIS LAROSA & MICO SUAYAN Cover by RYAN BODENHEIM
A BLOCKBUSTER NEW ONGOING SERIES! From New York Times best-selling writer Jeff Lemire (BLOODSHOT REBORN, Moon Knight) and extraordinary artists Lewis LaRosa (BLOODSHOT REBORN) & Mico Suayan (BLOODSHOT REBORN), a bloody and vengeful new era for Bloodshot begins this September as Ray Garrison escapes his violent past to build the one thing he never thought he'd earn: a family. But when a hateful secret from his true love's past threatens their fragile peace, Bloodshot will be forced to run headlong into a barrage of blood, bullets, and broken bones for a revenge-fueled assault that will have crushing consequences for those he holds most dear… Now: In the arms of his beloved girlfriend Magic, Bloodshot has finally found hope for the future…in the form of the couple's unborn child. But when Magic's estranged family – a cruel and sadistic clan of homegrown criminals – re-emerge to lay claim to their lost daughter, Bloodshot will be pushed back to the brink of madness, mayhem, and warfare… Soon: Eight years from today, Bloodshot's daughter has inherited her father's incredible abilities. Hunted by a high-tech kill squad called Omen, Jessie must hone her powers…and learn how to survive before the world is swallowed whole by the darkness that now pervades America… ONGOING SERIES | BEGINNING SEPTEMBER 2017
Faith and Futureforce.
A new series will bring back the character Faith who was a breakout star in 2016. Faith and Futureforce will feature Neela, Timewalker and Faith as a team assembled across time to save the universe.
One of my favorite Valiant characters Rai is also said to appear in this series.
FAITH AND THE FUTURE FORCE #1
Written by JODY HOUSER Art by STEPHEN SEGOVIA and BARRY KITSON Cover by JELENA KEVIC-DJURDJEVIC
A SPECTACULAR SUMMER EVENT! Every second counts when acclaimed writer Jody Houser (Mother Panic, Star Wars: Rogue One), explosive artist Stephen Segovia (NINJAK, Action Comics), comics legend Barry Kitson (Fantastic Four), and special surprise guests push Faith into a centuries-spanning fight for existence alongside the greatest heroes of the Valiant Universe…past, present, and future! Faith "Zephyr" Herbert – former member of Unity, current Harbinger Renegade, and Los Angeles' #1 superhero – is the universe's last, best chance at survival! Centuries from today, a devious artificial intelligence has unleashed a blistering attack on the very foundations of time…one that is unwriting history from beginning to end! Now, with her options exhausted, Neela Sethi, Timewalker – the self-appointed protector of what is and will be – has returned to the 21st century to recruit Earth's greatest champions of today and tomorrow to oppose this existential threat…and she needs Faith to lead them! But why Faith? And why now? This July, fly to the farthest edges of the future in a death-defying race to save time itself, as Faith leads the charge alongside Valiant's greatest heroes…and becomes a new legend for the ages! LIMITED SERIES | BEGINNING JULY 2017
Shadowman returns:
Shadowman is coming back with a new solo series in 2018. The character is also going to have a major part in the Rapture event that teams up Ninjak with Shadowman see Rapture for more information on that.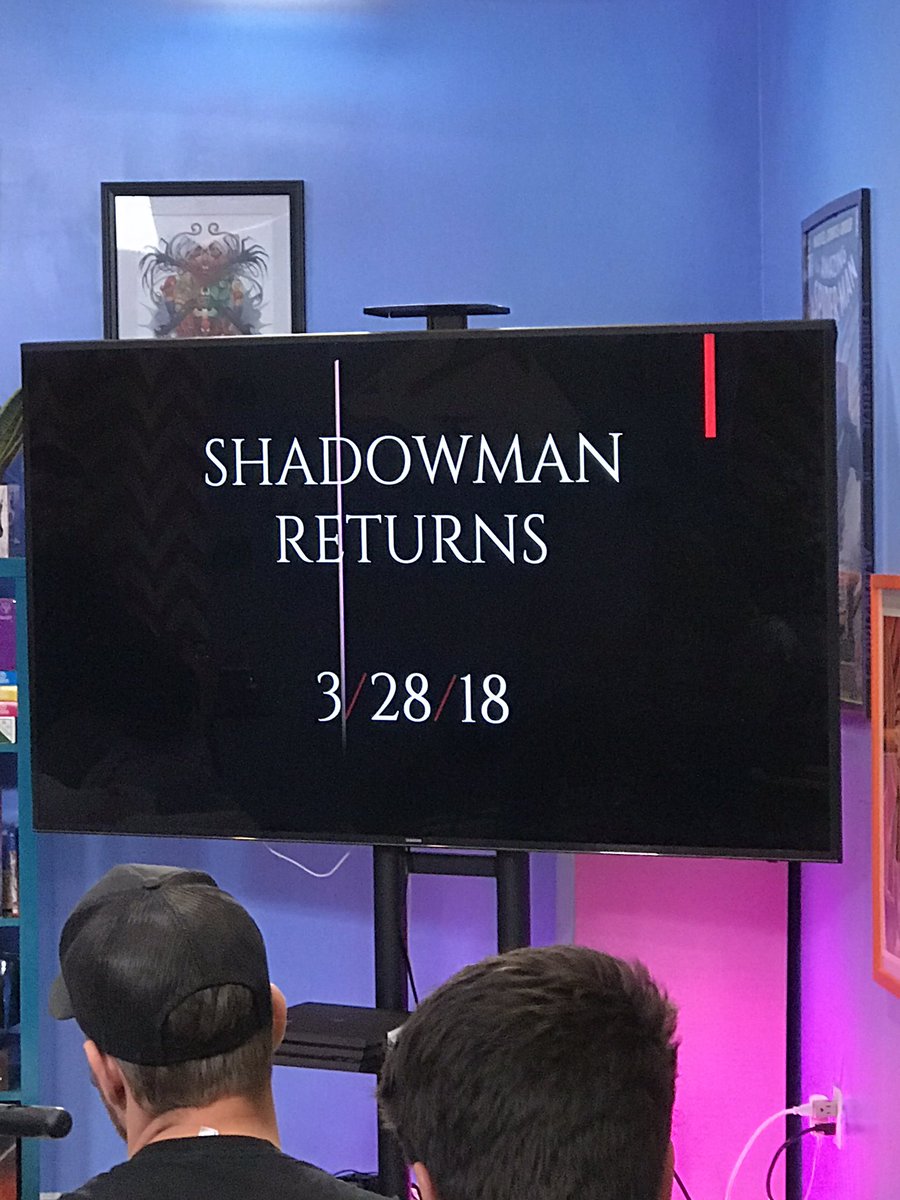 Ninja K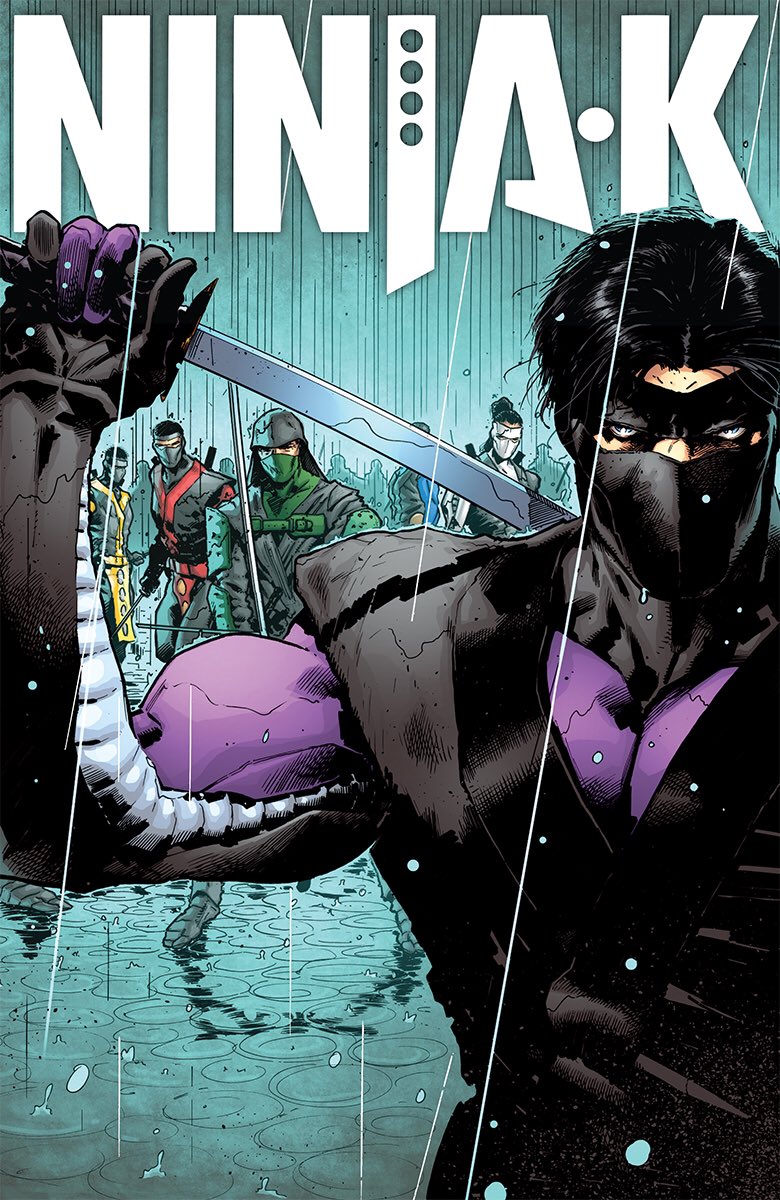 Writer Christos Gage known for his work on Daredevil the Netflix series as well as penning some major Marvel stories like Superior Spider-Man is writing a Ninjak series set for release in November of 2017. At the Valiant Summit Gage described the series as a James Bond film on Steriods or the biggest James Bond film ever. The premise is that Ninjak is actually Ninja K or the Kth ninja in a long line of previous Ninja based agents that have worked for M16 going all the way back to Ninja A. The story will cover the full history of all the Ninja operatives and their long history with M16. The story really plays with the name of Ninjak...
It is not so much Ninjak as it is Ninja K.
The story will explore Ninja M16 history through a murder mystery where old Ninja operatives are being assassinated. Colin King aka Ninjak is obviously a target so he begins to the explore the past operatives to dis-concern who could be behind the spate of murders.
NINJA-K #1
Written by CHRISTOS GAGE Art by TOMAS GIORELLO Cover by TREVOR HAIRSINE
A NEW CAN'T-MISS ONGOING SERIES! From acclaimed writer Christos Gage (Netflix's Daredevil) and superstar artist Tomas Giorello (X-O MANOWAR), the United Kingdom's most dreaded intelligence operative delves into the cold, calculating world of espionage and international intrigue! For nearly a century, MI-6, the most elite branch of Britain's clandestine intelligence service, has honed a ruthlessly effective, top-secret division – THE NINJA PROGRAMME – into one of its nation's most finely wielded weapons. Tasked as the first and last line of defense for queen and country, this small shadow army of agents and assassins has produced a succession of notable assets, including NINJA-A, the Queen's silent weapon of World War I; NINJA-E, the globetrotting secret agent that pulled the Cold War back from the brink of armageddon; and, most recently, NINJA-K, aka Colin King, a brash but fearless instrument of lethality that has saved the world from madmen and terror at every turn. But now…an unknown enemy is hunting and killing members of THE NINJA PROGRAMME one by one – and NINJAK is next on the list. ONGOING SERIES | BEGINNING NOVEMBER 2017
Livewire and Secret Weapons
Livewire will bet her first solo tail as part of Secret Weapons
Secret Weapons will focus on Livewire finding a new group of Psiots who were discarded by Harada due to their powers being seemingly useless. Livewire will find use for those powers and create a team to take on her former mentor.
SECRET WEAPONS #1
Written by ERIC HEISSERER
Art by RAÚL ALLÉN with PATRICIA MARTIN
Cover by RAÚL ALLÉN
Eric Heisserer – the Academy Award-nominated screenwriter of ARRIVAL and Valiant's upcoming HARBINGER and BLOODSHOT feature films – joins Harvey Award-nominated visionary Raúl Allén (WRATH OF THE ETERNAL WARRIOR) for an all-new Valiant Prestige-format adventure…launching Livewire and an extraordinary new team of heroes into the fight of their lives!
The government has dispatched Amanda McKee – the technopath codenamed Livewire – to investigate the ruins of a secret facility formerly run by Toyo Harada, the most powerful telepath on Earth and her former mentor. In his quest for world betterment at any cost, Harada sought out and activated many potential psiots like himself. Those who survived, but whose powers he deemed to have no value to his cause, were hidden away at this installation. But Livewire, having studied Harada's greatest strengths and learned his deepest weaknesses, senses opportunity where he once saw failure. A young girl who can talk to birds… A boy who can make inanimate objects gently glow… To others, these are expensive disappointments. But, to Livewire, they are secret weapons…in need of a leader. Now, as a mechanized killer called Rex-O seeks to draw them out, Livewire and her new team of cadets will be forced to put their powers into action…in ways they never could have imagined…
PRESTIGE FORMAT LIMITED SERIES | BEGINNING JUNE 2017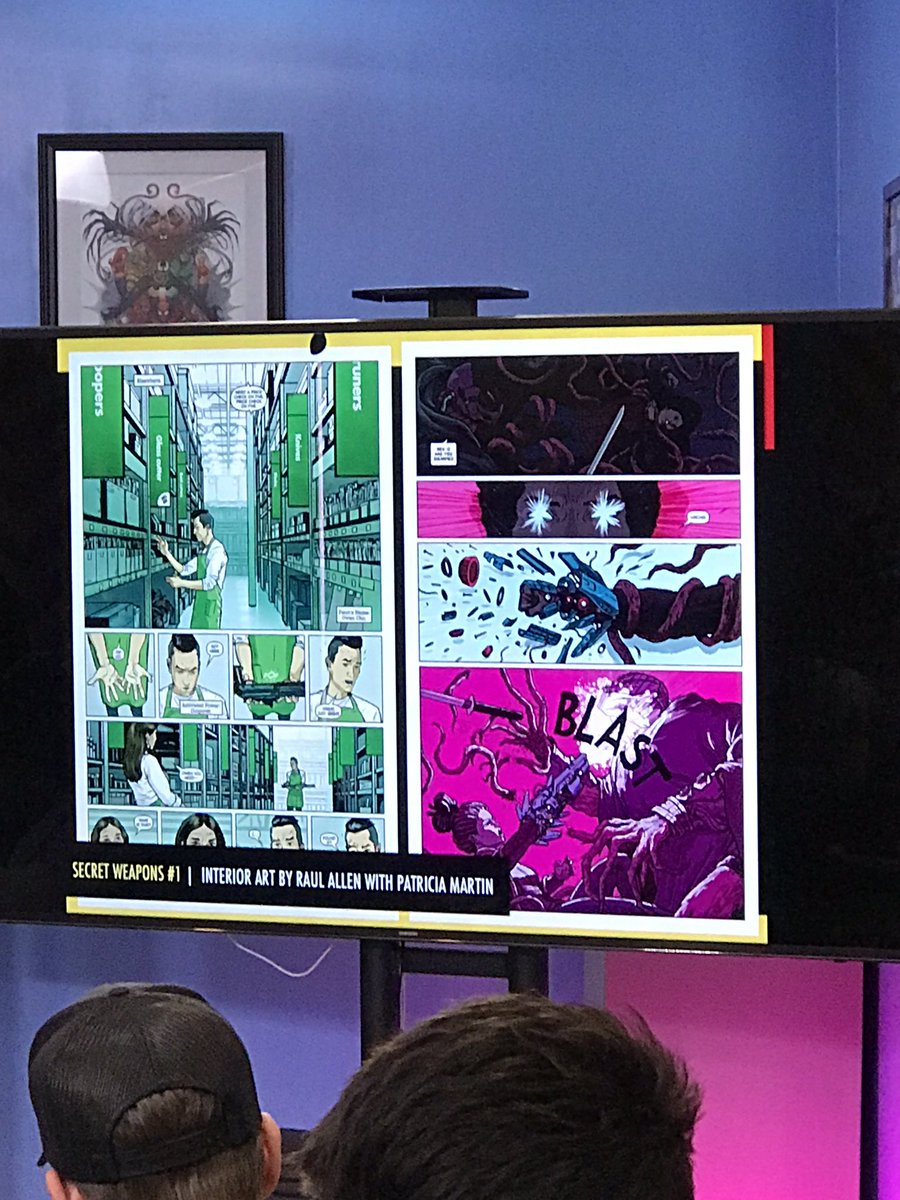 Rapture
Rapture is a story that will bring Ninjak and Shadowman together to the Deadside to take on a threat. A being known as Babel will be trying to enter the Aliveside and that breach could threaten all of existence.
Warned of this threat the Geomancer Tama will reach out to Ninjak to create a group of heroes to take down Babel before its too late for everyone.
RAPTURE #1
Written by MATT KINDT
Art by CAFU
Cover by MICO SUAYAN
On a scarred landscape, two otherworldly armies prepare to battle one last time, vying for control of a massive tower named from an ancient language no longer permitted to be spoken.
One army is led by a primeval force named Babel, whose goal is singular: to breach "heaven" no matter the cost. The only thing standing in his way is a gray-haired barbaric warrior, filled with rage and regret – a man who sees this battle as his last chance for redemption. But he knows his depleted forces have little chance of victory unless aid comes soon.
Enter Tama: A 12-year old girl on the crest of a hill overlooking the battle, who has just become humanity's only hope. The last in an ancient line of mystics who protect the Earth, she has foreseen this battle and knows millions will perish if she's unable to stop it. Now Tama and her ragtag team of malcontents – Ninjak, Shadowman and Punk Mambo – must somehow defeat an elder god hell bent on piercing the heavens.
This summer, New York Times best-selling writer Matt Kindt (X-O MANOWAR) and artistic sensation CAFU (RAI) lead a Tolkien-esque journey into the space between life and death…through the Deadside…and into the many worlds that lie beyond right here with a spellbinding and horrific standalone event!
LIMITED SERIES | BEGINNING MAY 2017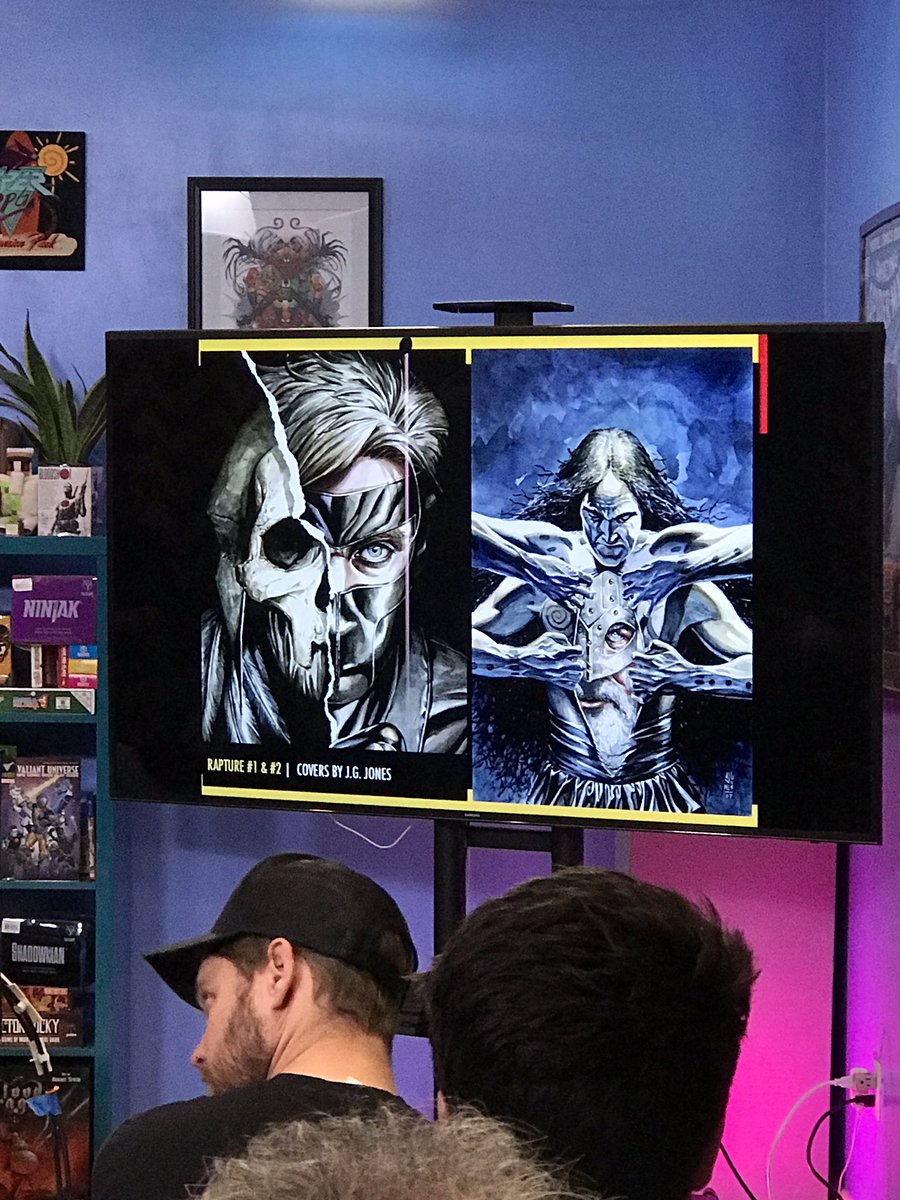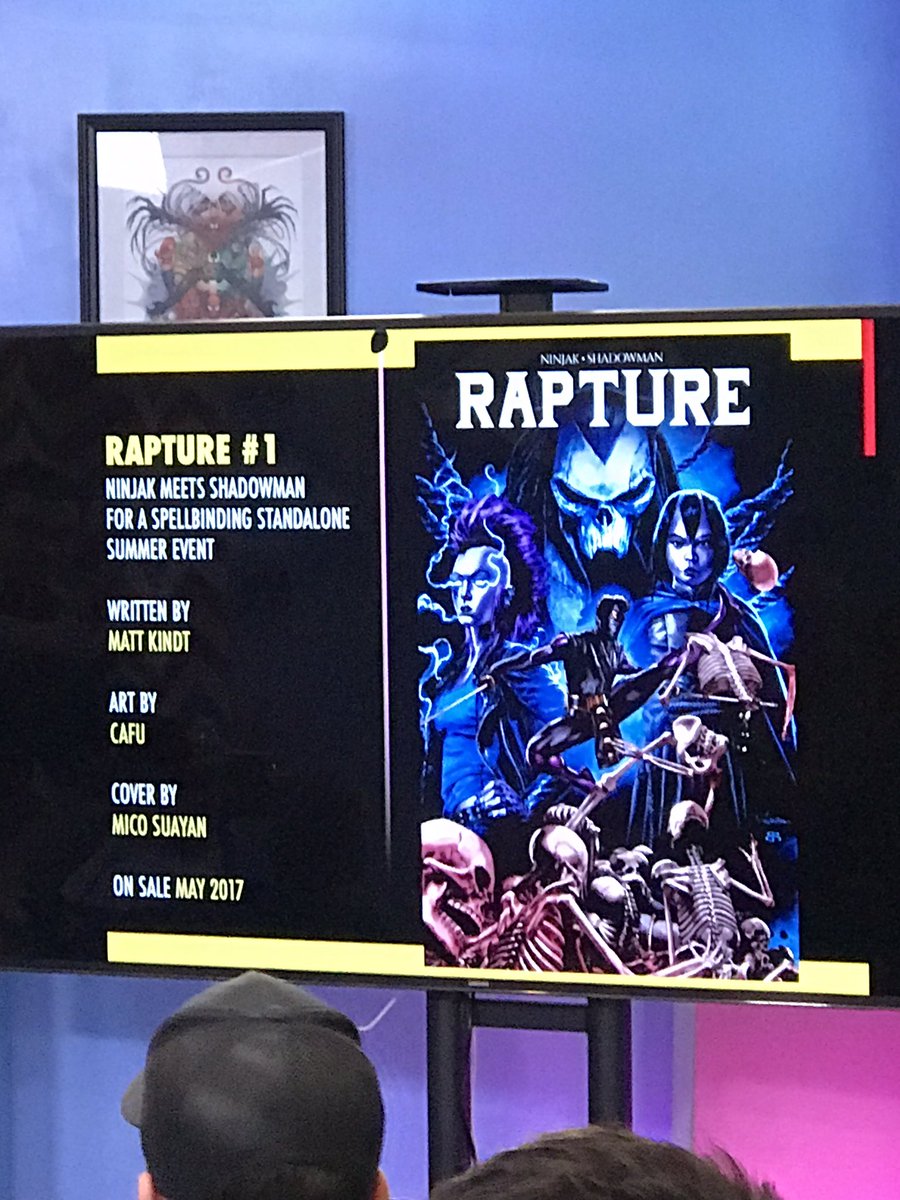 Valiant Summit Teasers
— Valiant Comics (@ValiantComics) April 17, 2017
Update 4-14-2017 - The world's worst super hero team Quantum and Woody make their appearance in Valiant Promo for day 3 out. The pair are in talks of receiving their own film with the Russo brother heading it along with the team that produced Ant-Man.
Update 4-13-2017 - 5 days until kick off and Valiant releases another Promo this one featuring Bloodshot and Faith. The company also has cool give aways for a lucky retweeter.
— Valiant Comics (@ValiantComics) April 12, 2017
Update 4- 9-2017: Valiant update 6 days shows some art for the excelent XO-Manowar.
— Valiant Comics (@ValiantComics) April 11, 2017

Update 4-10-2017: Valiant has begun teasing the summit with artwork by Lewis Larosa. Presumably each teaser will mention the countdown to days until the summit. The first one highlights a villainous character that is thought to be part of the story "Countdown until Harbinger"
Have you discovered Valiant yet? I have not always been a major Valiant fan but I have to say this year I have begun picking up more and more of their books. Faith is really good, it strikes different chords than just about anything out there. Then I picked up the new X-O Manowar. Manowar was one of those random, Oh that cover looks cool type of purchases. I have to say I liked it too. I expect X-O Manowar to be a big book and its still a great time to jump on, you might be able to find #1 still in some stores. Now I am looking at their line and I am eyeballing Ninjack and thinking I should check that out as well.
I've actually debated about initiating deeper coverage of Valiant just based off of Faith and now that I'm into X-O Manowar well it might just happen.
Tell me you don't want to read this. Great cover!
I am embarrassed to say that I have never logged onto Twitch but I will figure it out and follow along. I may need to ask the Katey Komics the young one in our crew for a Twitch tutorial. The Twitch account or channel for the summit is:
TWITCH.TV/HYPERRPG
You can follow the Summit there or stop back by this page. I will update with news from the Summit.
Valiant Press Release
Valiant is proud to announce #ValiantSummit 2017 – the award-winning publisher's third annual media event, broadcasting live from Twitch TV's Hyper RPG Studio in Los Angeles! On Monday, April 17th at 2 pm ET/11 am PT, join Valiant and an all-star line-up of special guests – including Harvey Award nominee Christos Gage (Netflix's Daredevil), Academy Award nominee Eric Heisserer (Secret Weapons), acclaimed writer Jody Houser (Faith), and New York Times best-selling writer Matt Kindt (X-O Manowar) – as they unveil a blockbuster line-up of news and announcements for the coming year and beyond!
With Valiant's biggest debut of all time – the sold-out X-O MANOWAR (2017) #1, on shelves now – sending shockwaves through the comics industry, 2017 is already the biggest year yet for the largest independent superhero universe in comics. Now, find out what epic events await Valiant's greatest ICONS with a stunning presentation revealing what lies ahead for FAITH, NINJAK, SHADOWMAN, QUANTUM AND WOODY, and many more in the year to come, only at #ValiantSummit 2017!
Follow all of #ValiantSummit 2017's news and announcements as they happen with a live stream on Twitch TV's Hyper RPG channel, Facebook Live or Twitter. And join the conversation on Twitter at the official @ValiantComics account or follow along with coverage live from #ValiantSummit 2017 from the preeminent press outlets in comics today!
Plus: Look for a series of exclusive post-game recaps of all of #ValiantSummit 2017's events with interviews, analysis, extras, and more everywhere throughout the day!
Comic Book News!