Iron Fist Netflix Show is coming soon!
Iron Fist will focus on the 4th member of the Defenders Super Hero team. The 3 previous shows have introduced Daredevil, Jessica Jones, and Luke Cage. After the Iron Fist Series will come the Defenders series which will unite all the characters to take on an evil that has been hinted at in each of their individual shows.
Season 2
Official Trailer:
It looks like Davos will get the Phoenix powers in this season and use them against Danny Rand. It also looks like the Daughters of the Dragon are going to be major players in this season.
Season 1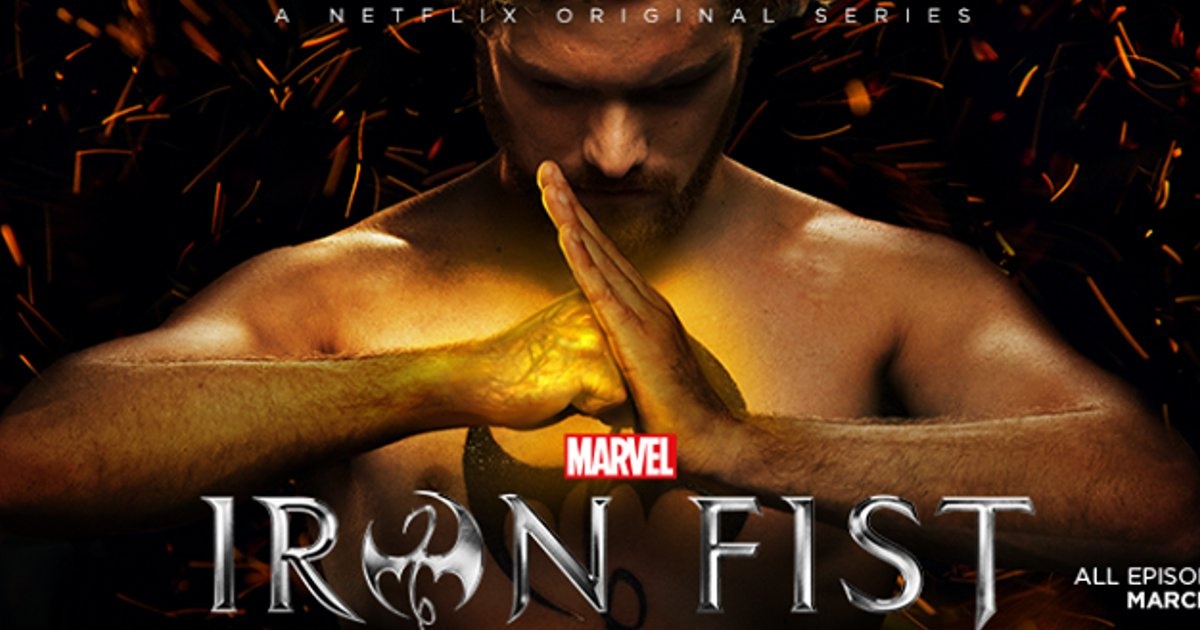 Reception:
Iron Fist met with very low critical reviews with a Rotten Tomatoes rating of 17%. However, Netflix viewers seemed to greatly disagree making the show one of the most successful Netflix shows of 2017.
According Variety with data from 7Park Data 54.7% of Netflix Viewers watched three or more episodes of Netflix on the March 17 Premiere data of the show. This is 7.8% higher than an average netflix show. Iron Fist also accounted for 14.6% of all streaming videos on its premiere which was higher than Luke Cage, Daredevil season two, Stranger Things and the last version of Orange is the New Black.
Review:
Iron Fist Season 1 Review - Its Good!
Official Description:
Danny Rand returns to New York City after being missing for years, trying to reconnect with his past and his family legacy. He fights against the criminal element corrupting his world around him with his incredible kung-fu mastery and ability to summon the awesome power of the fiery Iron Fist
Release Date:
March 2017
Caste:
Danny Rand/ Iron Fist - Finn Jones
Episode Name List:
Episode 1, Snow Gives Way directed by John Dahl
Episode 2, Shadow Hawk Takes Flight directed by John Dahl
Episode 3, Rolling Thunder Cannon Punch directed by Tom Shankland
Episode 4, Eight Diagram Dragon Palm directed by unknown
Episode 5, Under Leaf Pluck Lotus directed by Uta Briesewitz
Episode 6, Immortal Emerges From Cave directed by unknown.
Episode 7, Felling With Tree Routes directed by Farren Blackburn (18 for strong bloody violence)
Episode 8, The Blessing Of Many Fractures directed by Kevin Tancharoen
Episode 9, The Mistress Of All Agonies directed by Jet Wilkinson
Episode 10, unknown
Episode 11, Lead Horse Back To Stable directed by Deborah Chow (12 for mild violence)
Episode 12, unknown
Episode 13, Dragon Plays With Fire directed by Stephen Surjik
Entertainment Weekly Interview Highlights with Finn Jones:
EW did an interview with Finn Jones that was full of information and pictures on the upcoming Iron Fist and Defenders shows.
Full interview is at:
http://ew.com/tv/2017/01/16/the-defenders-finn-jones-previews-iron-fist/
On Finn Jones relating to the role of Danny Rand?
Well, we're both orphans. I was adopted, so I understand that need for something more. I understand that loneliness that Danny feels. Danny gets really stressed and really pissed off sometimes, and I understand that. I think it's the alienation aspect, but also that optimism. I understand Danny's optimism and where that comes from.
On Danny's role in the Defenders team:
What we're seeing [in The Defenders] is Danny is definitely becoming more at ease, I'd say, and more comfortable with his environment because he has others around him, because he's not going at it alone anymore. You get to see Danny's brighter side coming out, and he's not so tormented by this, but also because he's found his purpose.
In Iron Fist, he's so unwound, because he doesn't know who he is, there's always so much confusion, and he's always on the brink of a total meltdown, or totally annihilating something, someone, mainly himself. There's always this high energy frenetic tension, but in Defenders, he's definitely more responsible. He has ground, has drive. I'd say that's the key word for Danny in The Defenders. He drives all of the Defenders to get behind him to solve this… issue.
On relationship with Mike Colter who plays Luke Cage
I love Mike, he's so sweet. We're working together really well, which is f—ing cool. So far all of our stuff has been like, "Whoa!" … It's a really big thing among the fan base, and that aspect is coming through really well. The great thing about the comic books is they're fantastic but they're — and I don't want to say two-dimensional — they're comic books, and what we're doing is we're making more fleshed-out characters who have real problems with the world. There's more to Danny and Luke's characters and what they can bring to each other than the comic books ever came upon.
Full interview is at:
http://ew.com/tv/2017/01/16/the-defenders-finn-jones-previews-iron-fist/
Iron Fist Trailers!
NYCC 2016 released a whole slew of Iron Fist information.
Iron Fist Official Trailer 2/6/2017
The villains get more time in this trailer even though they are pretty shadowy. It looks like Madame Gao will reappear here after making cameos in both Daredevil Season 1 and 2.
Also be sure to watch the last shot of him using his fist power. Its likely the most dramatic use of a super power we have seen in the Defenders yet. Well other than Luke Cage being repeatedly hit by all kinds of nonsense and it bouncing off of him.
Iron Fist Trailer 10/10/2016
First sign of Iron Fist's Chi fists in action - His Chi laden fist looks sweet by the way.
Some hints at the villain
It looks like Colleen Wing will feature heavily in the film.
Finn Jones interviewed about Danny Rand's relationship with Joy Meachum.
Tone of Iron Fist will be lighter just due to following the more optimistic Danny Rand.
Marvel/Netflix has set the date of 3/17/17 as the release date for Iron Fist. The information was released through the Iron Fist twitter with a cool little promo below. Another fun piece information was that there are plans for an Iron Fist / Luke Cage series after the Defenders called "Heroes for Hire".
Iron Fist SDCC First Look Netflix:
The Iron Fist trailer was shown at San Diego Comic Con 2016. An array of Netflix Marvel material was shown at the 2016 con along with various producers and actors making an appearance.
Trailer From:
https://youtu.be/QCSPda7xQ3s
Some highlights of the trailer:
You can see Danny as a child along with his mother. It seems that his mother will die tragically. They may have altered how she died from the comics as it looks like they are involved in a plane crash as opposed to having her eaten by wolves. This might be for the best. In another scene you see monks likely from Kun Lun looking down on someone this is likely when they find Danny.
Another scene shows Danny being strapped down on a gurney, in what appears like a psych ward of a hospital. Perhaps he was too honest about his experience in Kun Lun after returning to the world and was turned in for being crazy.
The final scene shows him blowing open a door, through his Iron Fist power.
Pictures from Iron Fist Trailer:
Iron Fist Posts:
Who is Iron Fist?
Who is Luke Cage aka Power Man?
Who is Daredevil?
Who is Misty Knight?
Who is Iron Fist?
Defenders Saga News and Casting HUB