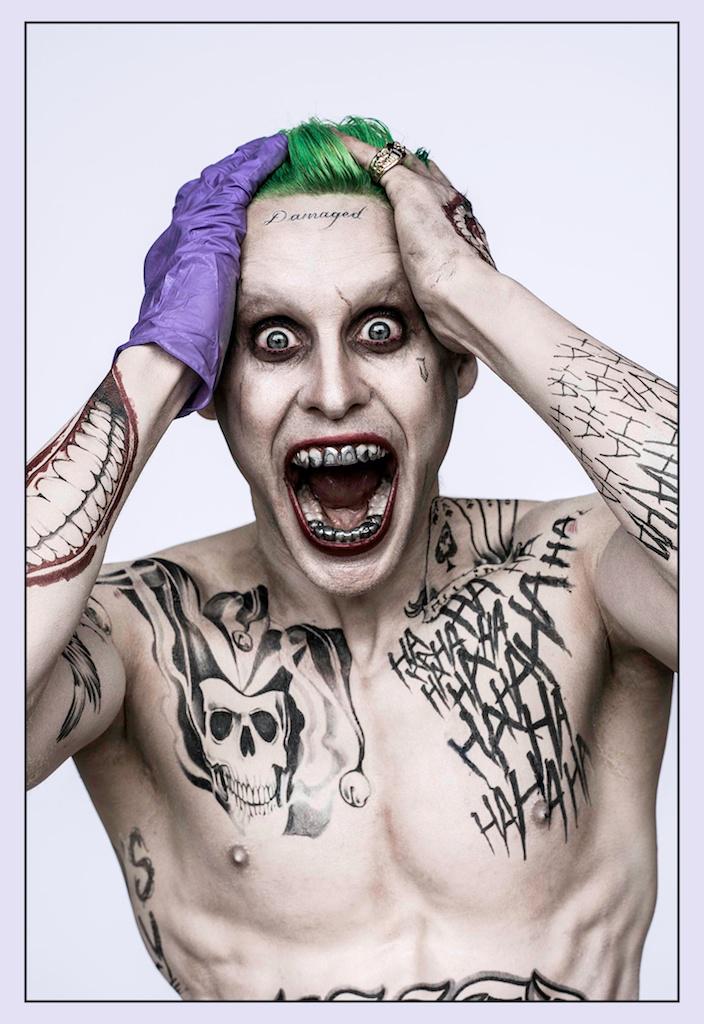 Here is the new picture of Jared Leto's Joker for the upcoming Suicide Squad movie. The look is a fairly dramatic twist on the Joker and has sent tongues across the internet wagging. The character of Joker debuted in Batman #1 in 1940 making him one of the older characters to maintain his level of popularity and relevancy.
In addition to the new look of the Joker, Jared Leto has gotten into character by giving mischievous gifts. The gifts have included things like dead rats, pig heads, used sticky playboy magazines anal beeds and used condoms. Will Smith and Margot Robbie both said they called Jared Leto Mister J during filming.
Will Smith said that when he got the gifts he thought that ...
"Jared has gone full Joker....The rule generally is don't go full-Joker....But he really set the tone. he wasnt playing with it, he was dead serious as an actor."
Many actors reacted very negatively to the gifts and to Jared's behavior. Viola Davis has stated at one point she nearly pepper sprayed Jared Leto.
Maybe we should all start mailing used condoms to Jared Leto. I want to be classy like movie stars.

— Scott Weinberg (@scottEweinberg) April 17, 2016
That Jared Leto gift story is weird as fuck. Creepy fucker. Surely it's against the law to send someone a used condom? It's disgusting.

— MritalkApple (@MritalkApple123) April 13, 2016
Margot also said of Jared's method acting that:
"I saw him out of makeup once and I was actually petrified of him. I was too scared to go up and didn't know who that person was, and when he got back into his makeup I was far more comfortable."
Commenting on the gifts Jared has said that the gifts were part of an acting method that allowed him to gain further insight into the Joker.
"I did a lot of things to create a dynamic to create an element of surprise, a spontaneity and to really break down any kind of walls that may be there. The Joker is somebody who doesn't really respect things like personal space or boundaries."
"The Joker loves to play games, he loves to manipulate. and that was part of the reason to do that... when you do give a gift to someone, even in real life, you think about what to get them, you think about who that person is to you, what would they like... It immediately started to be really good homework for me."
Jared Leto appeared on the Jimmy Falon and also gave him a Joker gift.
Analyzing the look.
Related:
DC Movie Hub
A look at Jared Leto's Joker Hair
Margot Robbie cast as Harley Quinn
First lets give take an objective take on this new look. Jared Leto's new Joker look appears to be a punk version of the Joker. This joker is relatively young, physically fit, and covered in tattoos. He also has grill over his teeth. Not much can be determined from a single picture about behavior, personality etc but he does appear to be maniacally laughing.
Classical attributes:
Green slicked back hair

Pale skin
New attributes:
Shirtless and Muscled- I don't think I have ever seen the Joker shirtless before.

Surgical glove

Tattoos - This joker sports a huge assortment of tattoos

"Damaged" - On forehead

Teardrop or Knife blade under his left eye

Cracks - Above eye

Giant smile - On right arm

Ha Ha Ha - On left arm and left chest and back

Ace of Spaces - On left collarbone

Jester Skull - On right chest

Kick Me sign - On back

There are others on his abdomen, arm and back that I can not make out.
Missing Attributes:
No suit

No flowers or other clown paraphernalia
Picture of Jokers back:
Some subjective thoughts:
There are aspects of this version of Joker that are similar to previous versions. His posture and attitude in this picture immediately bring to mind the panel from famous Batman story the "Killing Joke". In the Killing Joke the Joker's origin is explored as a failed stand up comic who descends down a path of homicidal madness. The Joker in the killing joke however wore his traditional suit and was not covered in tattoos.
Joker from The Batman
There have been many versions that have appeared as physically strong. There was one almost Gorilla like version that appeared in the 90s cartoon "The Batman".
Heathe Ledger's joker also had a certain Post-Punk feel to him. However he was physically scarred and not tattooed.
The new Jared Leto version is definitely new but with enough traditional characteristics to keep the Joker identifiable. This look was a surprise and it was not where I thought Leto was going. I actually saw him going toward some kind of sophisticated, joker philosopher. That said I think there is room to explore a joker with this look. Keep in mind the Joker is kind of a personification of senseless evil and chaos. He can appear in a variety of ways and each version some new fear or aspect of evil is explored.
Here is the David Ayer tweet that released the picture:
The Suicide Squad wishes you a Happy Anniversary Mr. J! #Joker75 #SuicideSquad @WarnerBrosEnt @DCComics pic.twitter.com/LZXz0x947Q
— David Ayer (@DavidAyerMovies) April 25, 2015
Related:
DC Movie Hub
A look at Jared Leto's Joker Hair
Margot Robbie cast as Harley Quinn