Please Share and Follow us on Twitter!
Tweet
Follow @toylabHQ
Black Panther is a film set in the Marvel Universe that features the African hero the Black Panther.
Synopsis:
Unreleased
Toylab Unofficial Synoposis:
After joining the superhero Civil War and fighting against and alongside Iron Man and Captain America, T'Challa returns home to Wakanda. T'Challa change in policy and actions toward the outside world have created a domestic riff between him and some of the local leaders. Chief amongst his detractors is Erik Kilmonger who seeks to oust T'Challa and rule Wakanda for himself. The power struggle forces T'Challa to once again suit up and defeat his foes as the Black Panther.
Release Date:
2018 - Note this date is the new date. Originally film was set for November 2017. After Spider-Man was added some films on the MCU docket were pushed back.
Director:
Ryan Coogler
Early Ratings:
As of 2/6/2018 Rotten Tomatoes has a critical review of Black Panther as 100% Fresh.
The film also boasts a very high "Want to See" percentage of 97%. Early ticket sales place Black Panther on pace to have one of the biggest superhero film openings ever.
Updates:
San Diego Comic Con had a Hall H exhibition of Black Panther footage. The clips were said not going to be shown in previews ever. The scene shown was that of T'Challa, Ayo and Okoye walking into a casino to intercept a deal between Everett Ross and Ulyssess Klaue. On their way a massive fight scene emerges with all three of the Wakandans showing what they can do in a fight. The other clips shown was that of Killmonger and T'Challa battling and the suits of both being described as high tech and almost Iron Man Extremis like. The crowd is said to have been very excited for what was shown.
Best Trailer
Official Trailer:
Teaser Trailer:
The first Teaser for Black Panther was released during the NBA finals in 2017. The Teaser recieved 89 million views in one day. This ranks the teaser toward the top of Comic Teasers. Thor Ragnarok did recieve more views with 136 million but Black Panther is well ahead of other films including: Captain America: Civil War 61 million, Star Wars: The Force Awakens 55 million, and Rogue One: A Star Wars Story 52 Million. Black Panther also recieved 349,000 mentions on Twitter during the 24 hours after the teasers release.
Casting:
T'Challa / Black Panther - Chadwick Boseman
Ulysses Klaue / Klaw - Andy Serkis
Okoye - Danai Gurira
Nakia - Lupita Nyong'o
Erik Killmonger - Michael B Jordan
Speculation:
Blackpanther to appear in Avengers Age of Ultron?
Blackpanther Easter Eggs in Agents of SHIELD
Casting
Chadwick Boseman is the Black Panther
Characters
Who is the Black Panther?
Who is Klaw?
Who is Man Ape?
The royal line of Black Panthers
Press Release from Marvel as Black Panther begins filming:

Update Jan 26, 2017 - Marvel released a press release stating that Black Panther had begun filming in Atlanta and other information. Very interesting to many was seeing the full cast list. The cast for the film is both long and amazing. Many of the character in Black Panther's homeland of Wakanda will be featured. One other name that jumped onto the list was Andy Serkis who is to reprise his role of Ulysses Klaw after being introduced in Age of Ultron. There are actually three sometime villains of the Panther listed in the caste Michael B Jordan playing Erik Killmonger, Winston Duke playing Man Ape and Serkis playing Klaw. My guess is that the film's main villain will be Killmonger but that Klaw will come into the picture at some point.
Post by Deviantdesign




MARVEL STUDIOS BEGINS PRODUCTION ON "BLACK PANTHER"
Chadwick Boseman, Michael B. Jordan, Lupita Nyong'o, Danai Gurira, Martin Freeman, Daniel Kaluuya, Angela Bassett, Forest Whitaker and Andy Serkis Star in the Newest Chapter of the Marvel Cinematic Universe
BURBANK, CALIF. (January 26, 2017)—Marvel Studios announced today that production has begun on "Black Panther," starring Chadwick Boseman ("Captain America: Civil War," "Get on Up"), Michael B. Jordan ("Creed," "Fruitvale Station"), Academy Award® winner Lupita Nyong'o ("Star Wars: The Force Awakens," "12 Years a Slave"), Danai Gurira ("The Walking Dead," upcoming "All Eyez on Me"), Martin Freeman ("Hobbit" trilogy, "Sherlock"), Daniel Kaluuya (upcoming "Get Out," "Sicario"), with Academy Award® nominee Angela Bassett ("American Horror Story," "London Has Fallen"), with Academy Award® winner Forest Whitaker ("Rogue One: A Star Wars Story," Lee Daniels' "The Butler"), and Andy Serkis ("Avengers: Age of Ultron," "Star Wars: The Force Awakens").
Additional cast members include Letitia Wright ("Urban Hymn," "Glasgow Girls"), Winston Duke ("Person of Interest, "Modern Family"), Florence Kasumba ("Captain America: Civil War," "Emerald City"), Sterling K. Brown ("Whiskey Tango Foxtrot," "The People v. O.J. Simpson: American Crime Story") and John Kani ("Captain America: Civil War," "Coriolanus").
Ryan Coogler ("Creed," "Fruitvale Station") directs Marvel Studios' "Black Panther" from a screenplay he co-wrote with Joe Robert Cole ("The People v. O.J. Simpson: American Crime Story"). The film, which opens in U.S. theaters on February 16, 2018, will be shot in Atlanta and South Korea.
"Black Panther" follows T'Challa who, after the events of "Captain America: Civil War," returns home to the isolated, technologically advanced African nation of Wakanda to take his place as King. However, when an old enemy reappears on the radar, T'Challa's mettle as King and Black Panther is tested when he is drawn into a conflict that puts the entire fate of Wakanda and the world at risk.
Marvel Studios' "Black Panther" is produced by Kevin Feige with Louis D'Esposito, Victoria Alonso, Nate Moore, Jeffrey Chernov and Stan Lee serving as executive producers.
Coogler's creative brain trust includes his frequent collaborators: director of photography Rachel Morrison, A.S.C. ("Dope," "Fruitvale Station"), production designer Hannah Beachler ("Creed," "Fruitvale Station"), editors Claudia Castello ("Creed," "Fruitvale Station") and Michael P. Shawver ("Creed," "Fruitvale Station"); along with costume designer Ruth E. Carter ("Selma," Lee Daniels' "The Butler"), visuals effects supervisor Geoffrey Baumann ("Doctor Strange," "Avengers: Age of Ultron"), Academy Award®- winning makeup designer Joel Harlow ("Star Trek Beyond," "Black Mass") and seven-time Academy Award® nominee, special effects supervisor Dan Sudick ("Captain America: Civil War," "Marvel's The Avengers").
Based on the Marvel comic character that first appeared in "Fantastic Four Vol. 1" Issue 52, published in 1966, "Black Panther" joins Marvel Studios' slate of releases in its Phase 3 commitment to introduce film audiences to new heroes and continue the adventures of fan favorites over the course of four years and nine films.
In 2016, Marvel Studios continued its unprecedented success with the release of "Captain America: Civil War," which opened on May 6 with the fifth largest opening weekend of all time and has since garnered box office receipts of over $1.1 billion worldwide.
The juggernaut studio ended the year with its newest Super Hero "Doctor Strange," starring Benedict Cumberbatch, Chiwetel Ejiofor and Rachel McAdams. The film opened #1 at the box office on November 4 and went on to gross more than $659 million worldwide to date. The two films propelled Marvel Studios' #1 domestic box-office opening streak to a record-breaking 14 consecutive films.
San Diego Comic Con 2016 Black Panther Panel:
Director Ryan Coogler and a great deal of the cast of Black Panther incuding Chadwich Boseman, Michael B Jordan, Danai Gurira, Lupita Nyong'o. They came together in Hall H to introduce themselves and their parts in Black Panther. The film was still in a pre-production mode and did not have any art or clips to show.
Concept Art: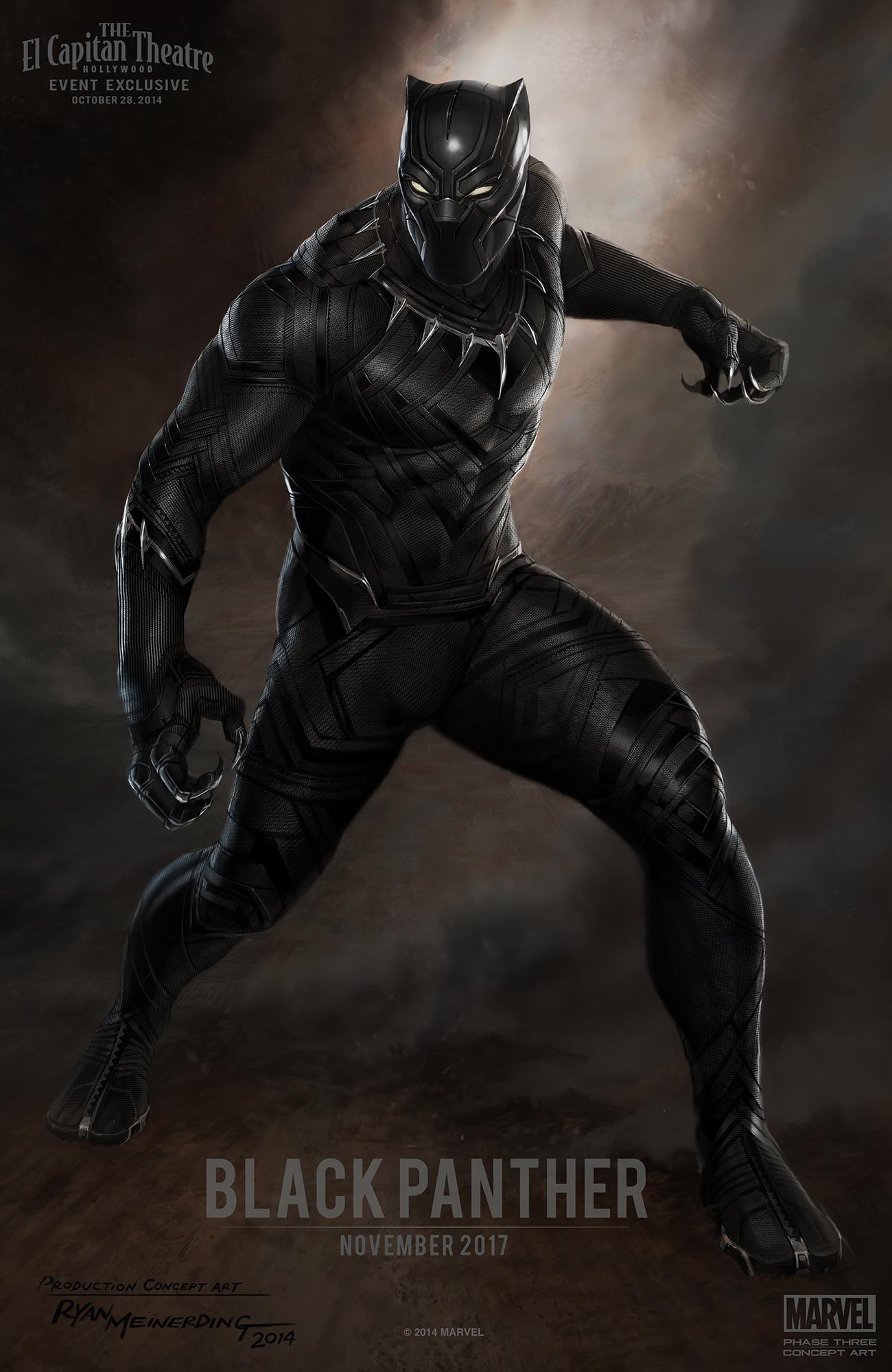 Black Panther concept art for movie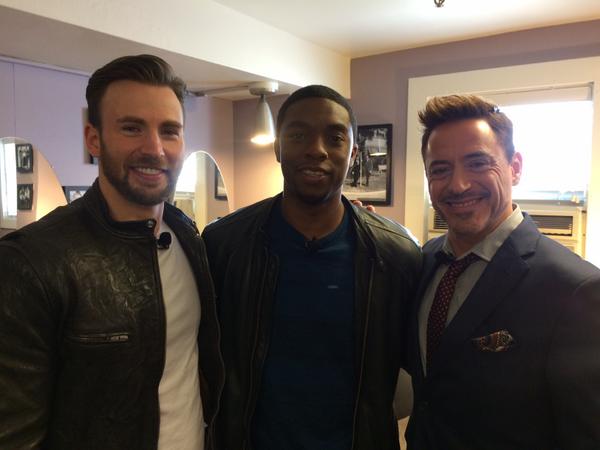 Bosman standing with Downey Jr and Evans
Black Panther Store:
Toylab is a member of the Amazon Affiliate program which allows to find awesome deals on Black Panther merchandise and link them directly on our site.
Comics and Trades:
I normally only recommend 4 trades from Amazon however I have linked directly to 8 here. I highly recommend Don McGregor's Black Panther Jungle Action the 1973series which fleshes out Wakanda. I grew up on and love Christopher Priest's Black Panther that modernized the character. The recent Black Panther: A Nation Under Our Feet is also phenonemal, while being very different from all other comics.
Toys and Merchandise:
Here are my favorite Black Panther Toys. The Mask, Funko, Marvel Legends figure and the Lego Set from Captain America: Civil War. This will be updated once the Black Panther film comes closer.
Black Panther Posters:
DISCLAIMER:
This article was submitted by a volunteer contributor who has agreed to our code of conduct. Toylab is protected from liability under the Digital Millennium Copyright Act (DMCA) and "safe harbor" provisions. Toylab will disable users who knowingly commit plagiarism, piracy, trademark or copyright infringement. Please contact us at ToylabHQ@gmail for expeditious removal of copyrighted/trademarked content. You may also learn more about our copyright and trademark policies.