Peggy Carter will appear in the first episode of Season 2 of Agents of SHIELD.
It will be a flash back to the beginning of SHIELD. More over she will be joined with two of the howling commandos from the First Avenger film. Dum Dum Dugan (Played Neal McDonough) and Jim Morita (Played by Kenneth Choi) will also both appear.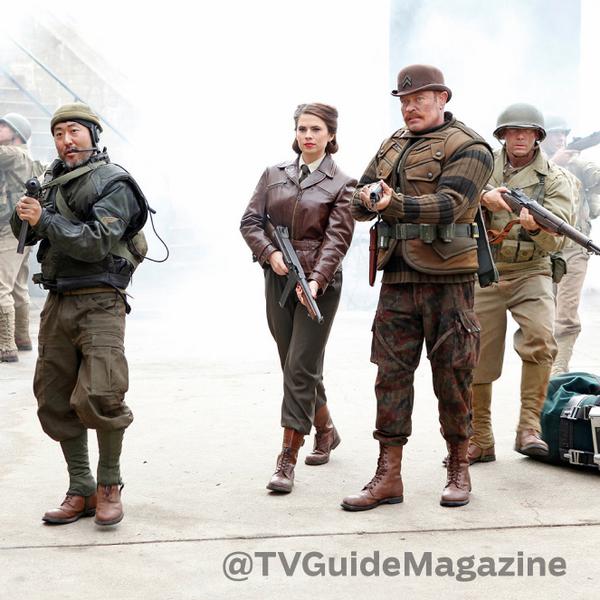 Peggy and a couple of Howling freaking Commandos
This may help drive up some interest for Agent Carter that will begin after the first half of Season 2 of Agents of SHIELD is complete.
Related Posts:
THE HUB: Home to latest SHIELD news and speculation
Agents of SHIELD Season 2 Reveal New Characters! - SPOILERS
Top 10 Questions After Agents of SHIELD Season 1 finale?
5 reasons to be excited for Agent Carter?
Full Synopsis :
"Shadows" - Coulson and his team are now wanted fugitives with limited resources--but that's not stopping them from keeping the world safe from powerful and unseen threats everywhere. However, with new members they hardly know, will S.H.I.E.L.D. ever be trusted again? Watch "Marvel's Agents of S.H.I.E.L.D.," on the ABC Television Network.

Guest starring are B.J. Britt as Agent Antoine Triplett, Nick Blood as Agent Lance Hunter, Adrian Pasdar as Brigadier General Glenn Talbot, Henry Simmons as Alphonso "Mack" Mackenzie, Patton Oswalt as Agent Billy Koenig, Lucy Lawless as Isabelle "Izzy" Hartley, Wilmer Calderon as Idaho, Reed Diamond as Daniel Whitehall, Hayley Atwell as Peggy Carter, Brian Patrick Wade as Carl Creel, Matthew Glave as Roger Browning, Simon Kassianides as Sunil Bakshi, George Stephanopoulos as self, Raquel Gardner as Carla Talbot, Ben Turner Nixon as Hydra Officer, Franco Vega as Military Leader, Rich Ceraulo as Soldier #1, and JB Tadena as Private Tilden.
We do not yet know who the villains or main focus will be of Agent Carter. With Hayley Atwell in it my guess is that it will do very well.
I also really like the idea of it filling the gap between the two halves of Agents of SHIELD it helps keep the momentum for the show going.