The Agents of SHIELD Season 2 premiere is looking promising. Scratch that it is looking like it is going explode in a giant mushroom cloud of nuclear awesomeness.
Why should you tune to watch the show? I will give you FIVE reasons!
Beware Spoiler ALERT!!!!
1)
The show promises to start off where it left off in a pretty amazing place. The synopsis is looking pretty awesome!
"Shadows" - Coulson and his team are now wanted fugitives with limited resources--but that's not stopping them from keeping the world safe from powerful and unseen threats everywhere. However, with new members they hardly know, will S.H.I.E.L.D. ever be trusted again? Watch "Marvel's Agents of S.H.I.E.L.D.," on the ABC Television Network.
2)
Next reason to watch they will be introducing some awesome villains including:
Who is the Absorbing Man?
Who is Kraken?
3)
There will be awesome new agents. While the most heavily anticipated character Mockingbird will not appear in the premier other new agents will.
Mockingbird: Bio, News
Isabelle Hartley: Bio, News
Lance Hunter: Bio, News
4)
There will be a flash back sequence to the beginning of SHIELD that will feature 3 characters from Captain America: The First Avenger. Specifically, Peggy Carter, Dum Dum Dugan and Jim Morita. Maybe we will finally learn which of the Howling Commandos Agents Triplett is related too?
Peggy Carter, Dum Dum Dugan, and Jim Morita to appear in Premier of Season 2!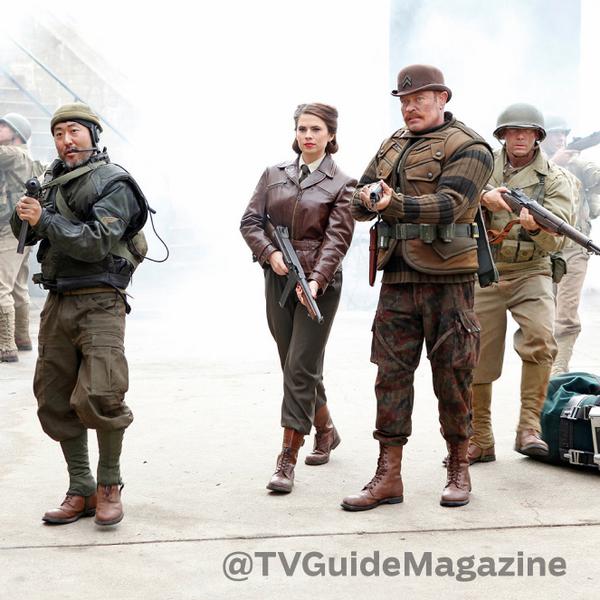 Hayley Atwell is so excited for the Premiere that she is standing on her head on top of a building.
pic.twitter.com/vyTANG3uoc
— Hayley Atwell (@HayleyAtwell) September 15, 2014
5)
We may finally get some answers to some of the biggest mysteries in the Marvel Universe.
Will Fitz get a monkey?
Is Skye's father the evil Maximus the Mad?
Who Are Skye's Parents #1
Is Skye an Inhuman?