Power Rangers is a film coming out in 2017 based off the TV show Power Rangers.
Official Synopsis:
Saban's Power Rangers follows five ordinary high school kids who must become something extraordinary when they learn that their small town of Angel Grove – and the world – is on the verge of being obliterated by an alien threat. Chosen by destiny, our heroes quickly discover that they are the only ones who can save the planet. But to do so they will have to overcome their real-life issues and band together as the Power Rangers before it is too late.
Release Date:
March 2017
Results as of May 1, 2017: Power Rangers proved to be split as far as reviews went. The film has a 47% Critical rating and a 75% Audience Rating. The film did not earn in the US market what it hoped but is currently sitting at an international haul of $135 million internationally before being released in Japan and China. Both China and Japan promise to be major markets for the film. The film could earn enough in those markets to justify the creation of a sequel. It has been said that their are plans for 6 plus Power Ranger films. The budget for the film was $110 million making it in the black by $25 million. To justify a sequel in the risky business of film the movie will still need to earn a substantial amount more.
Mover Theater Concession Stands merchandise:
Amazing Power Ranger to concession stand products
Toys:
We are Toylab after all and guess what we cover TOYS. The new Power Ranger toys for the 2017 movie are very cool. To see them in detail check out the links below:
Funko Pop! Power Ranger 2017 figures and minis
Power Rangers movie Toys - Zords, Figures and Monsters
Cast and Crew
Director Dean Israelite
Writers John Gatins, Matt Sazama
Cast:
Power Rangers:
Ludi Lin -
Black Ranger
/ Zack Taylor
Dacre Montgomery -
Red Ranger
/Jason Lee Scott
RJ Cyler -
Blue Ranger
/ Billy Cranston
Naomi Scott -
Pink Ranger
/ Kimberly Hart
Becky G. -
Yellow Ranger
/ Trini
Other characters:
Elizabeth Banks - Rita Repulsa
Bryan Cranston - Zordon
Bill Hader - Voice of Alpha 5
Sarah Grey - Amanda
Fiona Vroom - Abigail
David Denman - Sam Scott
Emily Maddison - Rebecca
Clips
Zack learns that piloting a Zord is harder than it looks.
Official Trailer:
Trailer released Feb 17, 2017
— Power Rangers (@ThePowerRangers) February 17, 2017
Official Trailer released Jan 19, 2017
Sneak Peak Trailer:
The Power Rangers Official Trailer was released on October 14, 2016.
Marvel Matt and the Power Rangers a Toylab Mighty Morphin tale
A long time ago a little boy watched a group of teenagers from the town of Angel Grove turn into Mighty Morphin Power Rangers and beat the snot out of monsters big and small. The show was cheesy as it was fun and he watched its highs and lows. He was giddy when they added the awesome Green Ranger and even watched as their Zords changed themes. Slowly over time the boy grew up and forgot about the show, and the Rangers.
Then in Denver Comic Con there was a Power Ranger reunion and the boy now a man walked around the actors that were in the show he dearly loved as a child. He still was not too excited. There had been a lot of awesome stuff that had come out since then. Of course though something was about to happen.....Other wise this would be a really lame story.
Jason David Frank the actor who plays Tommy Oliver the Green Power Ranger jumped up on a table and yelled "GO, GO, POWER RANGERS". A large crowd in front of his autograph booth went Bananas. He began tossing out t-shirt to the crowd. The crowd grew larger and even went more Bananas it was like I was watching a Van Halen concert with a bunch of geeky people. Then it all came back just out how much fun this silly show was, and how much joy it made for me and others. Frankly,I was pumped, yes really pumped when I heard Power Rangers were coming back. Since that day Ive been waiting for this film. I've been eagerly waiting to see what it would like.
Do I expect this new film to be cheesy? It sure as hell better be. The Power Rangers are primarily about light hearted escapism, Karate, Big Robots, Giant Monsters, with a bit of teen drama mixed in. It is fun formula and I can't wait to see it play out on the big screen.
Here is an awesome video review of the Trailer:
I love this review Andre aka "BlackNerd" is hilarious and has some great observations on the trailer.
Deals on Power Rangers on Amazon
Toylab is an Amazon Affiliate website lets look and see what Amazon has for the Power Rangers.
Posters and Advertising Art: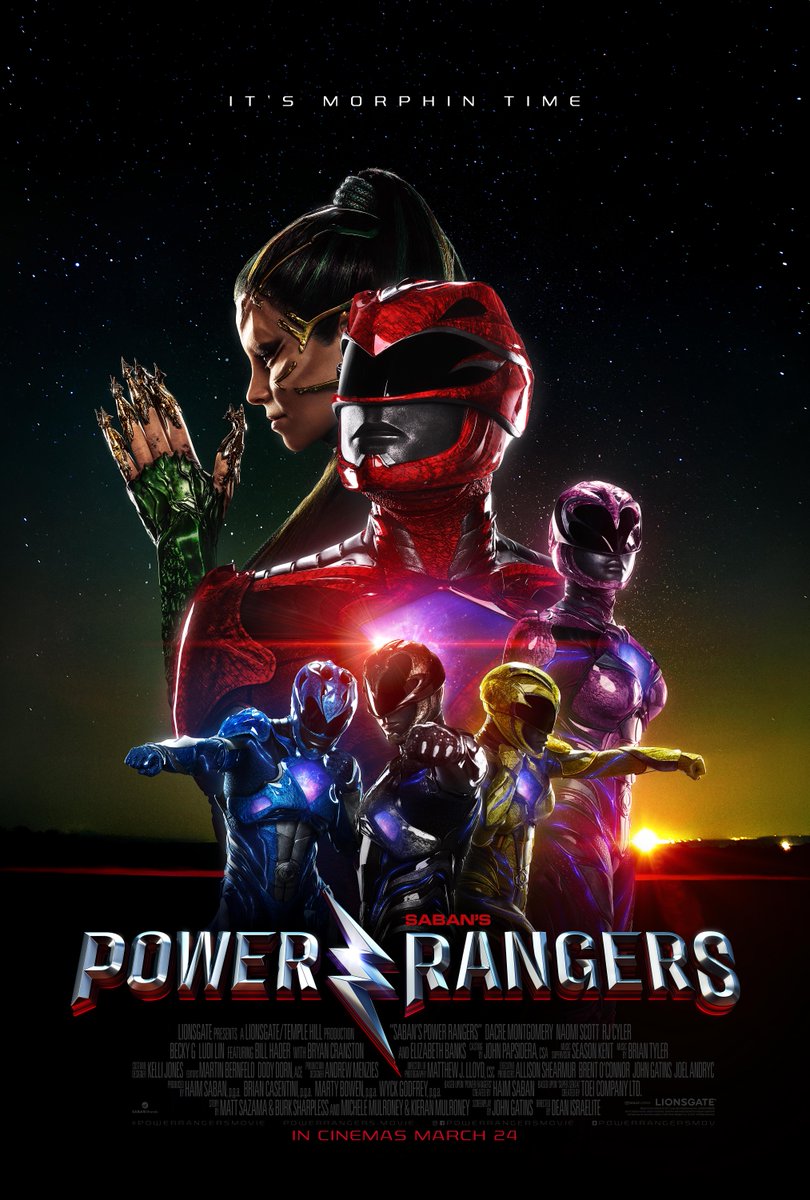 Pictures of from Power Rangers Film:
The Rangers
5 young teenagers in Angel Grove make a discovery that may allow them to save their planet.
Zordon
Zords
Here you can see the T-Rex Zord and Sabretooth Zord
Rita Repulsa
If you look at Rita's costume she is green and also has a green gem in her staff. This is believed to be the power coin of the green ranger. Rita is either an ex Green Ranger or she took the coin off a dead Green Ranger.
Alpha One
BOOM! Power Rangers Comics
The comic series of the Power Rangers currently with the Publisher Boom! is also making some noise with a new Ranger called the Mysterious Ranger. The Mysterious Ranger will reveal his/her identity in Power Rangers #11 released on Jan 18, 2017. To help promote the issue the publisher will be releasing masks created with the art work from the series artist.
This is actually the biggest Power Ranger comic news I have seen in awhile and it is greatly timed to choreograph with the film.
The Mysterious Ranger was the first new Ranger added to the Power Ranger mythos in 23 years! He also looks pretty scary. He has elements of the Green Ranger included in his costume but who is he? The Mysterious Ranger first appeared in Power Rangers #9 where it was revealed he was the big bad behind the events of the first 8 issues.
Other things that might interest you.
Amazing Power Ranger to concession stand products
Funko Pop! Power Ranger 2017 figures and minis
Power Rangers movie Toys - Zords, Figures and Monsters
More Games and Toys!