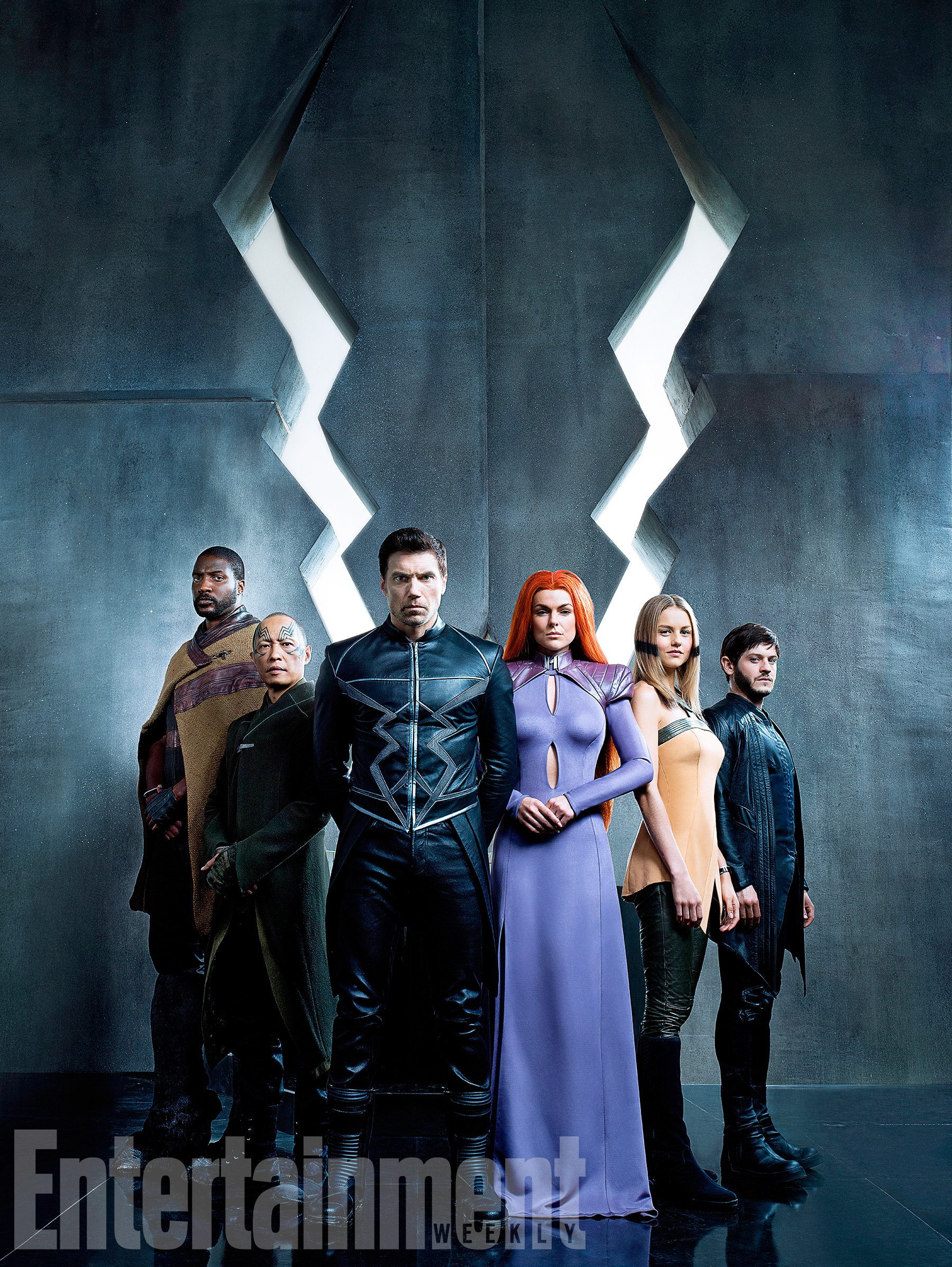 Marvel Studios /TV has announced that Inhumans will be a new show appearing on ABC and will premiere next fall. The series first 2 episodes will be shot in Imax Cameras and will debut in movie theaters across the country.
The series will not focus on the Inhuman characters in Agents of SHIELD (Though it would not surprise me if they appeared). Instead the show will focus on the classic Inhuman characters of the Inhuman Royal Family. The show will be set in the modern day and will be set both on Earth and the Moon. The addition of the Moon as a set means that Attilan and the Blue Side of the Moon will very likely be a setting for the show.
The show / film showing with Imax will be the first time that a show and Imax have joined in such away. The Marvel press release as posted on Marvel.com states:
ABC, IMAX and Marvel Television also intend to work together to create a joint marketing and promotion plan for the series across their proprietary media platforms--which would be the first such cross-platform marketing launch of a television series. Today's agreement also marks IMAX's first time as a financing participant in a TV pilot and series.
Major news in the Marvel press release was on the focus of the series:
Marvel's "The Inhumans" will explore the never-before-told epic adventure of Black Bolt and the royal family.
This should mean that all of the Inhuman characters will be on the table for Agents of SHIELD and this new Inhumans show.
I think it is safe to say that Inhuman's film has officially been canceled and this show is a replacement to tell some of the same story that was planned for the film. There has been speculation building for years on what Marvel will end up doing with the Inhumans and now we finally know.
What do you think? Are you excited? Disappointed? Please let me know.
Pictures
The first picture of the Cast was released fans noticed that Black Bolt did not have his mask which is his iconic look. A user of ComicBookMovie.com named Seon. Created this edited version of the picture. I think this looks so much better and there is not reason why Marvel vs ABC could do something similar.
Teaser Video:
First teaser does not show any characters but we do hear the voices and learn about the issues that the group will face. It sounds like some of the series Inhuman (After terregenisis cloud) storylines could be mined here. Though it will be different because Blackbolt left the Royal Family during that storyline and here he is very much in place as the ruler of the group.
The voices in the narration are one male and one female. The male is certainly Maximus the Mad as seems to be plotting the overthrow of his brother and calls for the Freedom of all Inhumans. He talking to a female who says what he is saying is treason. I doubt that is Medusa, my guess is that it is Crystal.
Overall really like this teaser, its very short but sets the mood. Really wish they had just gone this route instead of the stiff looking Entertainment Weekly shoot.
Pictures and Posters from Series:
Actual Casting Call Notes for Inhumans:
From the Hashtag show the Casting notes for the Inhumans has been released. Keep in mind that the names for the characters coded. However, if you know anything about the Inhumans its pretty easy to decode.
Source: The Hash Tag Show
It generally looks like they will be sticking to the classic looks of the characters: Toylab Bloggers added the suspected character names to the character descriptions so that those are not official.
Black Bolt
Broderick:
Male. 30-40. Caucasian. Can say volumes with just a look. Strong, thoughtful and private, he's unaccustomed to being questioned or feeling a need to answer to anyone, to an extent that can verge on arrogance. Series regular.
Medusa:
Marjorie:
Female. 30-40. Caucasian. An elegant and intelligent advisor to her husband, she struggles to find her place outside of their relationship, as others tend to view her as just a pretty face. Strong and resourceful, she's not afraid to break the rules when the situation demands it. Series regular.
Maximus the Mad:
Marty:
30-40. Caucasian. Broderick's younger brother; he is intelligent, charming, and articulate. He comes across as a man of the people but secretly covets power. Series regular.
Karnak:
Kevin:
Male. 30-40. Open. Slight of build, his mind is his greatest asset. Always prepared with a plan, his outlook on life is the glass is always half-empty and often cracked and dirty as well. Though his outlook can be grim, he has a droll, dry sense of humor. Series regular.
Gorgon:
Grady:
Male. 25-35. Open. Impetuous and brash, he has serious impulse control issues which frequently get him into trouble whether its women, booze, or fighting. He loves life and lives in the moment for better or worse. Series regular.
Crystal:
Christine:
Female. 18-25 to play 18. Caucasian. Soulful but still learning the ways of the world, she has the arrogance of youth. Impetuous and independent she is also deeply devoted to her family. Series regular.
Triton:
Timothy:
Male. 25-35. Open. SFXMU required. Supremely athletic. The ultimate picture of cool. He's calm under pressure and willing to do anything to get the job done.
Sir Kent's thoughts on the Inhumans
Thoughts on the Inhuman Show and Casting from our infamous Guest Blogger Sir Kent!
#SIRKENTSAID
#TOYLAB
#THEINHUMANS
The Internet and comic geeks alike were all abuzz this week over the MOSTLY confirmed news that MARVEL is planning a GARGANTUAN (LOVE using such words) and ambitious introduction for a group that had been first reported to be D.O.A. The news of THE INHUMANS FINALLY getting not only a big screen, I-Max only treatment but, being tied into a T.V. series was not only enough to make me fuck a duck but about as overdue as this month's Netflix membership is from me (Don't worry bitches, I'll get to you!). Speaking of ducks, a very brief history of The Inhumans. They were created by way back in 1965. Until recently, they never really had a long running comic of their own. They just kinda showed up at major events throughout Marvel history and much like the Terrigen Mist that gives them their powers, disappeared again. They were originally genetically enhanced humans that had been experimented upon by an alien race called The Kree.
(If you don't know who they are, you ain't a fan! And SHAME ON YOU!) The Kree created the Terrigen Crystals as a way to not only bring out and modify any hidden ability each person may have had but, the ultimate goal was to have them blend into different races throughout the galaxy and wait for orders to try and take over. Which explains their unique and individual appearance. I could go on and on because of their sudden resurgence of popularity thanks to A.O.S. (Agents of S.H.I.E.L.D.).
But I will spare you that because the BIGGEST question of the week is HOW IS THIS GOING TO WORK??? Marvel...by the way
BRA-F'BEEP'IN'-VO MARVEL! This is an endeavor that has NEVER been done before and if executed correctly, could spell a new way of movies and T.V. for years to come. Marvels plan is to have The Inhumans have a big screen run only only I-Max or I-Max 3-D screens. THEN spin that into a T.V. series.
This is simply GENIUS and ballsy thinking but, the story, the writing and the casting has got to be about as balls on as it was for DEADPOOL! Which brings me to the gist (Dirty but proper English term! Ya GOTTA love those, don't you?) WHO WILL PLAY THE ROYAL FAMILY??? This in it of itself is a HUGE problem because you have a bunch of start who think they are "TOO GOOD" to appear on the small screen! I said it once before and I'll say it again.
If the great Samuel muthuf'BEEPin' Jackson can appear TWICE on A.O.S. then NONE of you muthuf'BEEPa's have an excuse! Except for being dick's...thats always an excuse. Here is what I'm thinking should be the short list of consideration for the key members of The Royal Family (Of Inhumans. Not THAT Royal Family. DIPSH'BEEP!)
For the role of KING BLACKBOLT the first that comes to mind would be Vin Diesel BUT that dumbfuck probably would be one of those dicks that wouldn't do T.V.! I could see that so my next choice would be
Jessie Williams of GREY's ANATOMY fame. Just because, physically, he fits the role to a t. It adds a certain level of color so that this won't turn into FANTASTIC BEASTS AND WHERE TO FIND THEM. (Or as I call it, The Oscars all over again! HAH! Could there BE a cast anymore white? Oh wait...trump. I'm sad again)
My choice to play CRYSTAL would be Gillian Jacobs of COMMUNITY fame because HELLO. I mean LOOK AT HER! SHE IS CRYSTAL! Put her in something skin tight, add special effects and BOOM!
My choice for QUEEN MEDUSA would be Christina Hendricks of
BAD SANTA 2 and MAD MEN. Tits, ass and red hair. Need I say more?
An obvious choice to stay on that "Not too white" line of thinking is my boy KARNAK. Interesting note about Karnak. He wasn't introduced to the terrigen gas like everybody else. His mother wanted him to build his abilities naturally. So she sent him away to a monastery where he mastered his sensory abilities and martial arts prowess. Now, he can see weakness and flaws in anything and exploit it with his skills.
He is a natural tactician as well. My choice to play him could only be
Daniel Wu of INTO THE BADLANDS fame. If you ain't checked out this
A & E series, you really need to.
An easy pick for GORGON who is arguably the second strongest of the group would have to be Jason Momoa of STARGATE ATLANTIS and JUSTICE LEAGUE fame. He would play the shit of of a guy who could cause seismic tremors with his cloven hooves.
So there you have it. There is my bright ideas for who would fill out this cast well and hopefully wouldn't act like a bunch of dicks making the transition from the big screen to T.V. What do you think?
Inhuman's Shop
Toylab is a member of the Amazon Affiliate Program and is able to bring our fans the best deals on Inhuman Merchandise directly from Amazon.
Here is the information on the prior Inhuman Movie.
Inhumans Movie - News, Casting, Speculations, and Rumors
Scheduled Release date:
Nov 2nd, 2018
Description:
Marvel Studios President Kevin Feige was quoted saying this about the movie:
"November 3, 2018 will introduce dozens of characters into the Marvel Cinematic Universe," ... "We really do believe the Inhumans can be a franchise or a series of franchise unto themselves. They have dozens of powers and an amazing social structure. With our 20th movie in the Marvel Cinematic Universe, we wanted to continue to refine what that universe is about."
Source Marvel.com
Update Oct 9, 2015:
No More Inhumans Movie?
There is a rumor circulating NYCC and has been reported by Bleedingcool news that the Inhumans film may no longer be on Marvel's slate.
Some speculate that has to do with a disagreement between Marvel's film and TV divisions. Others conclude that this means that Marvel may be working on a deal with Fox to bring over the X-Men franchise.
For the moment this is all very much rumor and speculation. Bleedingcool does insist though that it has reliable sources to this rumor.
It would be unclear if true what this would mean for the plot of Agents of SHIELD. Agents of SHIELD has built up the ideas of Inhumans for the past 3 years. Would this give the show free reign introduce the Royal Family or does it put their future seasons in a quagmire?
Update: Oct 12, 2015
Devin Faraci addressed the rumor circulating from the BleedingCoolNews article. According to him there is no delay or cancelation of the Inhuman film.
Just talked to one of my Marvel sources. Said if INHUMANS was canceled no one would be more surprised than Marvel Studios.

— Devin Faraci (@devincf) October 10, 2015
He also questioned Bleedingcool's claims on the Iron Fist TV show:
— Devin Faraci (@devincf) October 11, 2015
Want to learn more about the Inhumans? Go to:
Inhumans CheatSheet for Agents of SHIELD fans
Current Marvel Logo for the Inhumans movie
News:
Will Vin Diesel be Blackbolt?
Agents of SHIELD build up of Inhumans
Inhumans CheatSheet for Agents of SHIELD fans
Is Skye an Inhuman?
Skye's Full Origin by Toylab
Inhuman #8 why did Marvel double orders?
Hunting for the Mysterious City in Agents of SHIELD
Who are Skye's parents?
Did Agents of SHIELD jus introduce Skye's Mom?
Is Skye's Father Maximus the Mad?
Characters:
Who are the Inhumans?
Who is Blackbolt? Why is he so powerful?
Who is Maximus the Mad?
Who is Medusa?
Who is Karnak?
Who is Crystal?
Who is Triton?
Who is Gorgon?
Important Places:
What is Attilan?
What is the Temple of Randac?
Ancient Inhumans
Who is King Randac?
Nova Worldmind - Cosmic Races and Cosmic Map